News > Spokane
Helping hands across the globe
Tue., April 19, 2005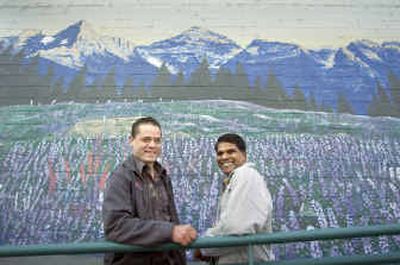 School is back in session in the small fishing town of Komari in Sri Lanka.
Firefighters Darrin Coldiron and Nick Muzik left Spokane Valley in January, determined to make a difference after the country was devastated by a tsunami. They focused on Komari and their first task was to rebuild the school so that the students – and their families – would return.
Classes resumed a month after the two arrived, Coldiron said. "School actually started before the construction finished," he said.
Principal Kanapathipillai David said his school had 750 students before the wave hit. Four died in the disaster and so far 460 have returned. "I think more students will come back in May" when the second term starts, David said.
Getting the students to come back took some coaxing because they were afraid. David spent a lot of time talking to parents trying to reassure them. "Now they are used to coming," he said. "Now they are anxious to learn."
When the tsunami hit on Dec. 26, nearly the entire town was destroyed. Many lost family members, including David.
When the first wave hit, David's wife, Shanthini, took her children to the YMCA, one of only two two-story buildings in Komari. She went back for her 81-year-old mother and took her to safety. Then she went back for her father. They were within sight of the YMCA when the second wave hit. Her terrified daughters watched as Shanthini David and her father were swept away. Neither of their bodies was ever found. "I searched for two days in the lagoon," David said.
Buildings were in ruin and wells were contaminated after the water swept through. Then Coldiron and Muzik arrived. Muzik stayed for two weeks, but Coldiron didn't return home until last week. He was never at a loss for something to do.
The rubble has been cleaned up. Part of the school has been rebuilt. An old dispensary was converted into a clinic. A basic health and nutrition education program has begun and now the wells are being cleaned up.
All of the wells have been cleaned at least once. Most have been cleaned several times and about 20 percent of them are producing water clean enough to drink. Government officials just need to test the water to confirm its quality. "We're very happy with how our well cleaning has gone," said Coldiron.
Most of the work has been done by locals, though other relief agencies have provided assistance. Coldiron used donated money to pay his workers $5 a day, well above the standard wage of $2 to $3. "They put in a solid eight hours," he said. "We're paying them more to work harder."
Another task under way is creating temporary housing. People living in the refugee camps are simply given food and money, but nothing else. "We've seen a rise in depression and alcoholism," he said. "It's really important for us to get people out of the camps and back on their old land."
Every family gets a 20-foot-by-10-foot wooden house on a concrete pad. They are asked to contribute $50 toward the $150 construction cost. The goal is to require residents to make a commitment but not make the cost prohibitive.
Coldiron is also willing to use donations to provide no-interest loans to people like the local cook who wants to start a bakery. "It's important that they're not losing their self-sufficiency," he said. "We won't give anybody anything."
Coldiron also recruited women to weave together bamboo leaves for roofing and fencing material. It's all part of his plan to stimulate the local economy.
Nearly 30 families have moved back to town and many others spend all day there and return to the refugee camps at night to sleep.
David is profoundly grateful for the work of Coldiron and his team. "He's very close to the Komari people," he said. "We all believe and trust in Darrin's team. We observe them every day."
He's also thankful for Coldiron's focus on the economy, unlike many other groups which simply hand out food or money. "They don't think about the future," David said of other groups. "They treat us like beggars every day."
He sees that Coldiron and his team of volunteers have a vision. "They have a good plan. They are thinking of the future – not today, not tomorrow.
"We would like to keep Darrin."
"Yeah, they tried to marry me off," said Coldiron, who is single. "They're good people. It's hard being home."
Although Coldiron is going back to work for Valley Fire, he left behind a hand-picked team of volunteers to continue the work. Supporting their efforts costs $1,300 a month. The bulk of the money, $1,000, is used to house and feed the volunteers and pay for their transportation. The rest is used for various projects.
Coldiron said he plans to pay the $1,000 a month himself, but he's looking for donations.
"I want the money donated to go to the projects," he said. "My money is going in regardless of what is raised."
Coldiron sees nothing unusual with his commitment to completing what he started. He's been supported by previous community donations and his fellow firefighters donated two months of vacation time. "I feel like I have a responsibility," he said. "What's money for? I'm only living once. It's not that big a deal, really."
He plans to head back to Sri Lanka next January, but is adamant that he not be called a hero for what he has done. "It's not about me," he said. "This is really about the community."
The community will have a chance to contribute to Coldiron's effort during a fund-raising concert Wednesday at The Met. The benefit will be from 7 to 10 p.m. and feature Aaron Richner, Ozmo Boogie, Laffin' Bones and Crosstown. Admission is $10 at the door. Other donations may be made to the Spokane Valley Firefighters Benevolent Association at any Sterling Savings Bank.
Coldiron is also looking for people willing to spend a month helping rebuilding efforts in Komari. "I would like this community to really exert itself, to make a difference," he said. "We need the community to donate money and donate their time."
Local journalism is essential.
Give directly to The Spokesman-Review's Northwest Passages community forums series -- which helps to offset the costs of several reporter and editor positions at the newspaper -- by using the easy options below. Gifts processed in this system are not tax deductible, but are predominately used to help meet the local financial requirements needed to receive national matching-grant funds.
Subscribe now to get breaking news alerts in your email inbox
Get breaking news delivered to your inbox as it happens.
---