News > Spokane
Fire threatens 140 homes
Tue., Aug. 2, 2005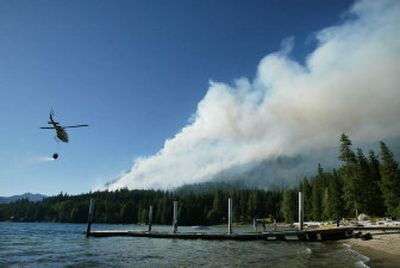 A wildfire near Wenatchee believed to have started in a burning mobile home before igniting nearby brush had grown to more than 950 acres by Monday evening and threatened more than 140 homes, fire officials said.
The fire was burning on the southern face of Dirtyface Mountain in Chelan County. Fire officials ordered the evacuation of 73 homes in the Whispering Pines subdivision north of Highway 207, the Lake Wenatchee Highway, after the fire burned to within 100 yards of some homes.
About another 70 scattered homes in the area remained under notice they might have to evacuate as well, Forest Service spokeswoman Robin DeMario said. A bulldozer line had been built around the subdivision and sprinklers were in place to protect against flying embers.
The fire, believed to have started Saturday evening, was reported 10 percent contained Monday evening, according to the Central Washington Area Incident Management Team.
"The fire has been actively burning," DeMario said. "I have no idea when residents will be allowed back in. It all depends on the fire activity."
Elsewhere in north central Washington, a wildfire about 12 miles northwest of Stehekin, in North Cascades National Park, had grown to 109 acres by Monday evening.
Firefighters were trying to stop that fire from spreading toward the lower Stehekin Valley, where it could threaten homes, park officials said.
No injuries were reported in either fire.
In the Dirtyface fire, the American Red Cross has established a shelter for evacuated residents at the Icicle River Middle School in Leavenworth.
A fire just north of Naples, Idaho, was deemed controlled at 6 p.m. Monday, after burning 25 acres of forested area.
No injuries were reported, but many trees in the Deep Creek area were damaged, said Scott Bacon, area supervisor for the Idaho Department of Lands.
About 30 firefighters will be working on extinguishing the fire over the next few days, down from the 89-person crew that was working Monday.
The cause of the fire is under investigation.
Wildfires burning in southwestern and central Idaho scorched thousands of acres of grass, sage and pine, as near 100-degree heat helped the flames spread over the weekend.
Still, officials said hundreds of firefighters had made significant progress in containing the blazes.
The National Fire Information Center in Boise reported Monday that just two large fires – the two-square-mile Falls Creek blaze on the Salmon-Challis National Forest and the 34-square-mile Snake One fire near Weiser at the Oregon border – were burning in the state.
So far, Idaho's fire season has been relatively mild. While lightning-caused blazes have torched more than 350 square miles, including the 312-square-mile Clover Fire in late July on federal Bureau of Land Management territory south of Twin Falls, firefighters say they've gotten off relatively easy compared to past years.
"On the Salmon-Challis National Forest, our fire season has been great," said Gail Baer, a Forest Service spokeswoman. "We haven't had the number of fires we've had in the past to date."
About 60 percent of the Falls Creek fire, burning in steep terrain near the Lemhi Range 25 miles northeast of Challis, had been contained as of Monday by 82 firefighters. They expect to have the blaze under control later this week, Baer said, adding that the flames were helping burn off excess fuels in the area.
Some 200 miles to the west, 550 firefighters had contained 40 percent of the Snake One fire that singed sage, grass and pockets of timber in the rugged Snake River Canyon about 21 miles northwest of the small town of Weiser, near the border with Oregon.
Eight fires, at least seven of them sparked by lightning, kept firefighters busy on the Boise National Forest. They included a 200-acre wildfire near Spring Shores in the Lucky Peak State Recreation Area about 35 miles east of Boise that was reported about 7:45 p.m. Sunday.
Local journalism is essential.
Give directly to The Spokesman-Review's Northwest Passages community forums series -- which helps to offset the costs of several reporter and editor positions at the newspaper -- by using the easy options below. Gifts processed in this system are not tax deductible, but are predominately used to help meet the local financial requirements needed to receive national matching-grant funds.
Subscribe now to get breaking news alerts in your email inbox
Get breaking news delivered to your inbox as it happens.
---