News > Business
Ford continues employee discounts; GM ends program
Tue., Aug. 2, 2005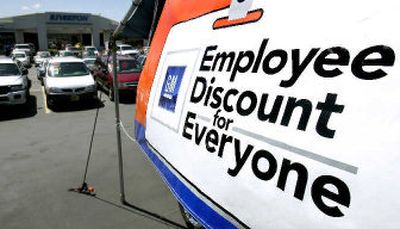 DETROIT – General Motors Corp. dropped its popular employee-discount plan Monday in a signal that the era of big incentives could be ending. Ford Motor Co. said it will continue employee pricing for another month but also will try to cut back on incentives for 2006 models.
GM was the first to allow customers to buy 2005 vehicles at the employee rate in June. The automaker's sales jumped 41 percent that month, and Ford and Chrysler followed with their own employee pricing plans in July. All of the plans were set to expire Monday.
Ford, however, said it's extending employee pricing through Sept. 6 for Ford, Lincoln and Mercury vehicles. It's also adding some 2006 models to the discount plan, including the Ford Escape, Ford Expedition, Ford Econoline and Lincoln Navigator, all of which saw sales fall in the first six months of this year. The Escape, Expedition and Navigator are sport utility vehicles; the Econoline is a van.
DaimlerChrysler AG spokesman Kevin McCormick said the company would announce its plans later Monday.
GM, the world's largest automaker, dropped employee-pricing but said it would try to lure buyers with lower prices on its 2006 models. GM is hoping to wean customers off incentives and establish its brands as a good value. Such moves to back off incentives in the past couple of years have been largely unsuccessful.
"Regardless of what any of our competitors are doing, we think this is the right play for us," said Brent Dewar, GM North America's vice president of marketing and advertising.
GM is lowering the prices on 30 of its 76 models and adding features to other models to make them more competitive. Under the new pricing strategy, the base price of the Chevrolet Malibu, for example, is $17,990, or $1,835 below the 2005 model, while the base price of the Saturn Ion sedan is $12,490, or $2,455 lower than the 2005 model.
Buick and Hummer vehicles will get a four-year, 50,000-mile warranty previously reserved for GM's luxury Cadillac and Saab brands.
Ford said it also will lower prices on most of its 2006 Ford, Lincoln and Mercury models.
The Ford Explorer has new content and better fuel economy but will be $1,750 less than the 2005 model, the company said.
GM and Ford said Monday that customers have had a hard time finding actual vehicle prices on the Internet because base prices shown don't include available incentives.
Local journalism is essential.
Give directly to The Spokesman-Review's Northwest Passages community forums series -- which helps to offset the costs of several reporter and editor positions at the newspaper -- by using the easy options below. Gifts processed in this system are not tax deductible, but are predominately used to help meet the local financial requirements needed to receive national matching-grant funds.
Subscribe now to get breaking news alerts in your email inbox
Get breaking news delivered to your inbox as it happens.
---