News > Voices
Putting on the dog
Thu., Aug. 4, 2005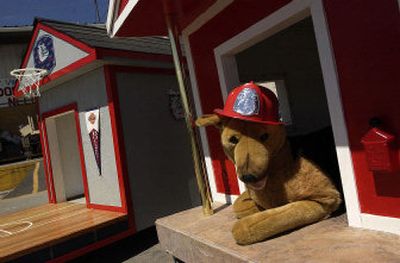 With only four of St. Vincent de Paul Society's seven trucks in operating condition, operations manager Mathew Meeusen knew he had to come up with a creative way to raise money to replace two trucks and repair the others. Their newest truck is 15 years old and the oldest is 45 years old.
Without reliable trucks, the social service organization can't accomplish its mission to help those in need of food and clothing.
For years, Meeusen had the idea to build designer dog houses and raffle them off to raise funds for the nonprofit organization.
"We've got tons of dogs in Spokane and people take pride in their homes, so they would want a nice dog house, too," said Meeusen.
The houses will be raffled off in three series – in September, December and next spring. Four of the dozen houses planed for the first series are already built.
Status-conscious poodles, Bichon Frises or Chihuahuas would love residing in the pink Paris Hilton castle, fit for a princess.
Sports fans will have their choice of Gonzaga University basketball-themed house, complete with hardwood court and hoop or the Spokane Indians-themed house with an Astro-Turf baseball diamond for Rocky or Bud to lounge on.
FD1 (fire dog one) would make the perfect digs for a Dalmatian. The bright red firehouse is outfitted with a brass pole and fire alarm.
Several other houses are planned for the first series. The Fox Theater dog house will have a miniature stage, reader board announcing coming attractions and will be decorated with original carpet and draperies from the Fox. Lassie and Rin-Tin-Tin would give their right paw for such a place.
Football fields, complete with hash marks and goal poles, are planned for Eastern Washington University and Washington State University. What dog wouldn't want to have a house with a picture of Butch the Cougar in it?
The Whitworth College dog house will have a pirates theme and there are plans for an University of Idaho Vandals house.
The west side of the state will be represented with a Seattle Seahawks and a University of Washington Husky house. A John Deere-themed house will have the exact John Deere green paint and look like a tractor.
The second series, scheduled for December, will feature a Seattle SuperSonics motif, and a Seattle Mariners house will be featured next spring. Meeusen plans to have the houses autographed by the team members.
The dog houses are built by Randy Horton, a St. Vincent de Paul Society employee. Horton, who has many years of construction experience, and Meeusen, plan and design each house, working with the universities, businesses and professional teams to make them as authentic as possible.
Most houses will be 3-feet-by-3-feet with thick framed walls, plastic windows, tile or carpet floors and composite shingle roofs. The houses are on wheels, which lock in place.
"We have Randy who has the know-how and the donated materials and tools to do this so it's not so costly. Each house costs about $500 to build," said Meeusen.
Horton said he wakes up at night thinking about plans for future houses. Some of the houses he plans to build include themes for Spokane Chiefs Hockey; NASCAR; country cabin; military-themed houses; and a Harley-Davidson house.
For a $1,000 donation Horton said he will work with individuals to build a custom-designed house.
Meeusen said they will deliver the houses to the raffle winners living in Spokane – providing the trucks are running.
Local journalism is essential.
Give directly to The Spokesman-Review's Northwest Passages community forums series -- which helps to offset the costs of several reporter and editor positions at the newspaper -- by using the easy options below. Gifts processed in this system are not tax deductible, but are predominately used to help meet the local financial requirements needed to receive national matching-grant funds.
Subscribe now to get breaking news alerts in your email inbox
Get breaking news delivered to your inbox as it happens.
---