Sports
Lewis free bird again
Wed., Aug. 10, 2005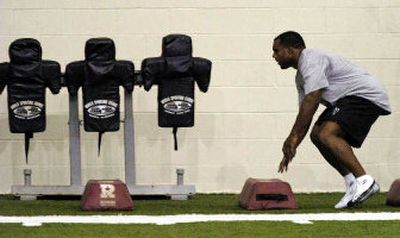 WESTMINSTER, Md. – It's the little things that Jamal Lewis missed the most while serving time in a federal prison.
"You learn to value every day what you have," the running back said Tuesday, his first day back with the Baltimore Ravens. "Driving a car, eating good food. Things like that. When you're out here on the street, you don't think about those things."
Lewis spent four months in a federal prison, then two months in a halfway house, after pleading guilty to charges he used a cell phone in 2000 to arrange a drug deal for a friend.
His off-season consisted of working in the prison tool shop, lifting weights and counting down the days before he could be free again. Compared to that regimented existence, practicing twice a day in the grueling August heat is a welcome chore.
"I'm back doing what I like to do, doing what I do best," he said. "I'm not a bad person. It's just me moving forward. I'm not looking back on the past and the things I just went through. My next step is really just prove people wrong, the people that doubt me and think I'm not in the shape I'm supposed to be."
Except for a tender right ankle, Lewis is in excellent condition. He weighs around 240 pounds, about five pounds less than his listed weight in the media guide, and appears fit enough to plow through a couple linebackers.
It is not by accident. His stay in the halfway house was designed to prepare him for his day job. He woke up at 7 a.m. and worked out in a gym up to 12 hours a day.
"In my case, it was just the last part of my incarceration. They let me get in shape and get ready for the season," he said. "Basically you just go to work, and my job was to go work out and get ready for my job here."
Lewis is expected to put on pads and practice with the Ravens for the first time on Wednesday. After running on his own Tuesday, he spoke for 12 minutes in front of a half-dozen TV cameras and more than a dozen microphones.
He tried to mask his bitterness toward a court case that ruined his off-season and last year earned him a two-game suspension and the loss of $761,000 in wages. But Lewis couldn't disguise his feelings completely, especially about the fact that the government waited nearly five years to take action against him.
"It was just a case of, I was a high-profile guy and somebody just wanted to pull on me a little bit," he said. "The statute of limitations was coming up, it was the brink of a great season, things were looking up, so hey, you just put it together."
Lewis ran for only 1,006 yards last year, less than half the amount he amassed in 2003, when he won the NFL rushing title with 2,066 yards – the second-highest total in league history. He was selected to play in the Pro Bowl for the first time and was voted Offensive Player of the Year.
Lewis' debt to society is not quite complete. He still has around 500 hours of community service to do in Atlanta.
"This is kind of a slight intermission. Just a breaking point," he said.
But the worst is behind him.
Local journalism is essential.
Give directly to The Spokesman-Review's Northwest Passages community forums series -- which helps to offset the costs of several reporter and editor positions at the newspaper -- by using the easy options below. Gifts processed in this system are not tax deductible, but are predominately used to help meet the local financial requirements needed to receive national matching-grant funds.
Subscribe to the sports newsletter
Get the day's top sports headlines and breaking news delivered to your inbox by subscribing here.
---