News > Spokane
Orphaned duck still wildlife, agents say
Thu., Aug. 18, 2005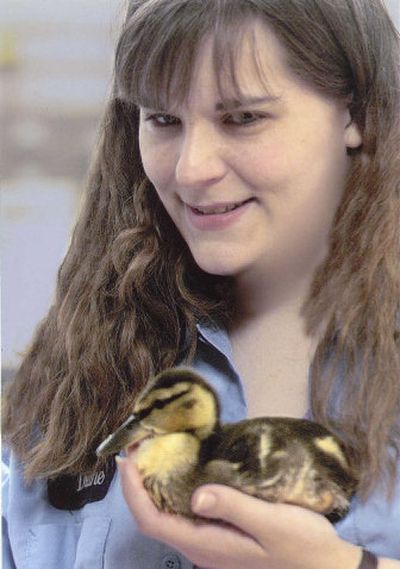 AUBURN, Wash. – It didn't matter that Diane Erdmann had nursed the brown- and yellow-feathered duck back to health after he'd been injured.
Wildlife agents considered Gooey wildlife, so they seized him.
"It's a situation that we run across every year," state Fish and Wildlife Capt. Bill Hebner said. "People find sick or injured wildlife they believe to be orphaned and they take it into captivity and make pets out of them.
"The agency does not support that concept. We believe wildlife is wildlife and pets are pets and there's a strong distinction between the two."
The Fish and Wildlife Department is looking into whether Erdmann should be charged with unlawful possession of wildlife. The Auburn Police Department is investigating the wildlife officers, one of whom Erdmann says struck her as he snatched the duck away.
State officials insist the officers were only doing their job. Nonetheless, they're looking into Erdmann's claims to determine whether the officers may have been overzealous.
Erdmann said she got Gooey, now 11 weeks old, from a friend after the day-old duckling had been injured by a crow.
She said he was "not a wild duck" but a domestic mallard.
She got a book on raising ducks, kept him under heat lamps, fed him chicken food and vitamin supplements, bought him custom-made duck diapers and brought him to work every day.
"It's a very spoiled little duck," said Ross B. Hansen, owner of Northwest Territorial Mint.
Last Friday, two state Fish and Wildlife agents showed up at Northwest Territorial Mint asking for Erdmann, who's a manager at the company.
Kristin Donovan, assistant to the company president, said she heard "a very loud, very booming, very aggressive-type voice."
"He said, 'Give me the duck.' I heard a pause, then, 'If you don't give me the duck, I'm going to arrest you.' "
When Erdmann refused to hand Gooey over, she said the officers became more stern. One of them showed her his handcuffs. As she cradled Gooey in her arms, the other one lunged at her and grabbed the duck, striking Erdmann on the chest, she said.
Erdmann filed a complaint with Auburn police, who said they would forward their report to the city prosecutor.
Under certain circumstances, it can be legal to possess wildlife, but it takes a permit and meeting other requirements.
A Fish and Wildlife spokesman said Gooey is living in a rehabilitation center.
Local journalism is essential.
Give directly to The Spokesman-Review's Northwest Passages community forums series -- which helps to offset the costs of several reporter and editor positions at the newspaper -- by using the easy options below. Gifts processed in this system are not tax deductible, but are predominately used to help meet the local financial requirements needed to receive national matching-grant funds.
Subscribe now to get breaking news alerts in your email inbox
Get breaking news delivered to your inbox as it happens.
---