News > Spokane
Man pinned after pickup rolls
Tue., Aug. 23, 2005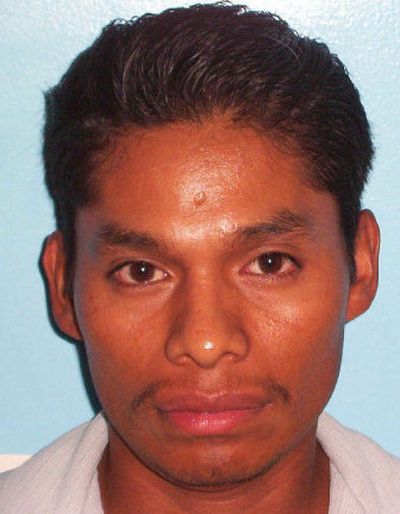 A 68-year-old Liberty Lake man was partially ejected from a truck while traveling on Interstate 90 Monday and was listed in critical condition at Sacred Heart Medical Center, the Washington State Patrol reported.
Carroll Ray Borden and passenger Patricia Ann Borden, also 68, were eastbound near the Sullivan Road exit at 1 p.m. when the Ford pickup truck Borden was driving went off the right shoulder, continued through a chain-link fence, rolled over and came to rest on the driver's side, the state patrol reported. Borden was hauling a 20-foot trailer which was totaled in the accident, the report said.
Borden was partially ejected and trapped between the ground and the pickup. He was taken to the hospital by ambulance. The state patrol said Patricia Borden was hurt but was not transported in an ambulance.
Thieves steal fuel from county vehicles
Spokane Valley Police are looking for information about thieves who stole several hundred gallons of diesel fuel last week from the Spokane County Conservation District.
A district employee told Officer Glenn Hinckley on Aug. 16 that someone had used a key to enter a fenced compound where vehicles were stored. Most of those vehicles had full fuel tanks, police spokesman Cpl. Dave Reagan said.
The suspect or suspects siphoned diesel from the vehicles and attempted to steal two of them, Reagan said in a news release.
The employee said the thieves stole at least a few hundred gallons of diesel from the vehicles parked at the district office at 210 N. Havana, which is just south of the Spokane County Fair and Expo Center.
Anyone with information is asked to call Spokane Valley Police at (509) 242-TIPS (8477).
Autopsy on baby yields no cause of death
The Monday autopsy of an 8-month-old girl was not able to determine how she died. More tests are needed, but it does not appear that the death was the result of foul play, police said.
The girl's 20-year-old father found the girl not breathing when he awoke Friday morning. The baby was rushed from the family home in the 2700 block of West Bridge to Sacred Heart Medical Center, where she was declared dead.
The autopsy was performed on Monday but it was inconclusive, police spokesman Dick Cottam said. A more specific cause of death must wait for further testing.
Authorities seek man in stabbing, rape case
Law enforcement officers from Okanogan County and Brewster, Wash., were searching Monday for a suspect after a 16-year-old girl suffered serious stab wounds following a reported sexual assault Sunday evening.
The suspect, 28-year-old Crescencio Nava-Victorino, is wanted on charges of attempted murder, first-degree rape and kidnapping.
The incident occurred about 9 p.m. Sunday when a 16-year-old girl was walking along Old Highway 97. Nava-Victorino stopped and picked the girl up to take her to Brewster. Nava-Victorino is the brother of the girl's boyfriend, according to the Okanogan County Sheriff's Office.
Before they reached Brewster, the girl told police that Nava-Victorino pulled into an orchard where he raped her and stabbed her. The girl was able to escape and run away. However, Nava-Victorino chased her down and was able to stab her several more times before she escaped a second time, according to the press release.
The girl walked a quarter mile before she found a home on Pioneer Road and asked for help. The victim was transported to Brewster Hospital and later airlifted to Wenatchee.
Deputies and Brewster Police officers were able to follow the girl's blood trail back to the crime scene, but deputies could not locate Nava-Victorino.
He was last seen driving a large white station wagon.
Nava-Victorino stands 5-foot-6, weighs 120-pounds and has brown eyes and black hair. He was armed with a large, silver-handled knife.
Nava-Victorino has been staying at a residence on North Star Road near Brewster.
Anyone with information on the whereabouts of Nava-Victorino is asked to call the Okanogan County Sheriff's Office at (509) 422-7232.
Workshop on sex offender laws canceled
Idaho lawmakers and law enforcement officers have canceled a workshop Wednesday to discuss potential changes to the state's sex offender laws.
Rep. Bob Nonini, R-Post Falls, said it's unknown when officials will reschedule the brainstorming session with Deputy Attorney General Bill von Tagen, who planned to advise the group on the legality of any proposed changes.
The session was canceled because many North Idaho lawmakers are going to Nampa to see President Bush, who is vacationing in Idaho and will speak Wednesday about America's war on terrorism.
Lawmakers and local law enforcement scheduled the discussion after residents flooded them with calls after several high-profile North Idaho incidents made people question whether Idaho's sex offender laws need changing.
Oregon elementary school damaged by fire
Salem Fire damaged a Salem elementary school a little more than two weeks before the start of the 2005-06 school year.
The fire started in a tree Monday afternoon and spread to the attic at Lake Labish Elementary School. Workers inside the building escaped without injury, said Jim Trett, a spokesman for the Keizer Fire Department.
The blaze heavily damaged the roof, one classroom and the library; other rooms sustained smoke and water damage, Trett said.
Lake Labish is a kindergarten through fifth-grade school with an enrollment that averages about 125 students, according to the Salem-Keizer School District's Web site. School district officials were unsure when the school would be ready for students.
Local journalism is essential.
Give directly to The Spokesman-Review's Northwest Passages community forums series -- which helps to offset the costs of several reporter and editor positions at the newspaper -- by using the easy options below. Gifts processed in this system are not tax deductible, but are predominately used to help meet the local financial requirements needed to receive national matching-grant funds.
Subscribe now to get breaking news alerts in your email inbox
Get breaking news delivered to your inbox as it happens.
---