News > Idaho
Small-town pride
Tue., Aug. 23, 2005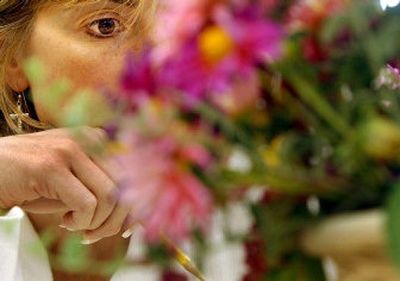 Fiddle Fritz the market lamb is Sarah Ward's ticket to Europe and the Athol teenager's reason for spending the week at the North Idaho Fair and Rodeo.
But 4-H livestock projects are just one of many reasons for visiting the hometown-style event that officially kicks off Wednesday and runs through Sunday at the Kootenai County Fairgrounds.
As the county's population soars, fair officials take pride in keeping the traditional fair true to its rural history, a place where locals take pride in growing vegetables and flowers, baking pies and crocheting afghans.
There also is a mix of commercial vendors, entertainers and carnival rides in addition to a professional rodeo, motocross races and demolition derby.
"It still has a small-town fair feel," Fair Manager Chris Holloway said Monday in the midst of a flurry of dizzying preparations that left her so disoriented she forgot where she had parked her pickup. "It's crazy, but it's fun."
Ward, 18, manned the 4-H food booth, where German sausages are the hot seller. So far, business had been slow, but Ward and two 4-H mothers were bracing for an evening rush when people would start bringing in their exhibits.
The animals will arrive today, including Ward's market lamb. She will sell the animal Saturday morning at the livestock sale, hoping to pocket at least $230 for her trip to Europe next summer.
"She's very wild," Ward said of Fiddle Fritz. "She's like a bucking bronco."
The rowdy lamb won't be the only bucking bronc at the fair.
Holloway said the PRCA rodeo Friday, Saturday and Sunday is always a large draw, as is the demolition derby on Sunday.
More cowboys than ever have entered because the prize money has been doubled, meaning the winning riders and ropers will leave with $3,000 in their Wrangler pockets.
Holloway said various activities for children are planned, from duck races to a reading hour, and the fairgrounds should be easier to reach because of a new entrance off Government Way.
Gates will open at 9 a.m. each day. Admission is $6 for people over age 13 and $2.50 for children ages 6-12. Children under age 5 will be admitted free. Daily parking is $3.
Meanwhile in Spokane, final preparations are under way for the Spokane Interstate Fair, which will begin its 10-day run on Sept. 9.
Local journalism is essential.
Give directly to The Spokesman-Review's Northwest Passages community forums series -- which helps to offset the costs of several reporter and editor positions at the newspaper -- by using the easy options below. Gifts processed in this system are not tax deductible, but are predominately used to help meet the local financial requirements needed to receive national matching-grant funds.
Subscribe now to get breaking news alerts in your email inbox
Get breaking news delivered to your inbox as it happens.
---