News > Voices
A second chance
Thu., Aug. 25, 2005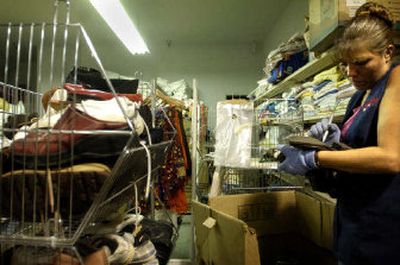 Like the faded shirts, broken-in jeans and flawed stainless steel flatware, everything is given a second chance at Classy Rack thrift store. Even the employees. "That's what we do here," said Jennifer Cole, assistant manager. "We take people who no one else wants around."
The North Side store at 301 W. Boone Ave. is a success story for many of its workers as well as the customers as it celebrates its third anniversary on Sept. 7. On any given day (the store is closed on Sunday), the parking lot is jammed, the loading dock is bustling and the 26,000-square-foot store is buzzing with bargain shoppers.
The store is run by the Union Gospel Mission Ministries, thanks to a donation from the late Harry W. Watts.
Some male employees live at the mission on East Trent Avenue before transitioning into private housing. Several female employees live at Anna Odgen Hall on West Mallon Avenue, the mission's shelter for women and children. The state and federal prisons participate through work-release programs. Career Paths Services also recruits potential employees.
Of the approximate 25 employees, 20 work full time. Employees earn minimum-wage salaries of $7.35 an hour.
Phil Altmeyer, executive director of the Union Gospel Mission, said the store takes in between $8,000 and $10,000 a month after expenses and salaries. A Spokane Valley store is scheduled to open no later than the end of October at 11921 E. Sprague Ave., site of the old Valley Best-Way Building Supply Store. The 18,000-square-foot store also will have a used car lot.
"Sometimes I have to pinch myself and say, 'Hey, what's going on?' " manager Lance Slew said from his office stacked with books and used merchandise fit for the showroom floor.
Slew has run the store since it opened. Like many of his workers, he had an unstable childhood, growing up without a father, and with a mother who married six times. He moved to Spokane in 1989 in pursuit of a college music degree. Instead, he bounced around as a salesman, working at pawn shops, or whatever it took to keep him on his feet.
Today, the 39-year-old-charismatic boss is a husband, father and devout Christian. Some days, he takes on the title of counselor, but that's all part of the Union Gospel's mission.
"We're Christian based," Slew said, "and we make no bones about it."
Religion, said employee Debbie Monroe, is what saved her. More than three years ago, she landed in the state prison at Gig Harbor, Wash., formerly the Purdy Treatment Center, on a check forging conviction. After serving an 18-month sentence, Monroe, 43, moved to Anna Odgen Hall and got a job at Classy Rack.
She has worked there for a year and has since moved into an apartment with another former Odgen Hall dweller. She is attempting to get custody of her youngest of three children, a 14-year-old daughter.
Monroe also has moved up the ladder at Classy Rack, and now has the daunting task of running the clothing department. The donations have been phenomenal, as evident in the mound of bagged clothes that are stacked to the warehouse ceiling. Monroe said it will take about three months to go through the clothes. Some will be shipped to Third World countries or made into rags. Nothing will be wasted.
The community's generosity extends beyond the closet. Donations of books – some with spines that have never been cracked – run in the thousands. Housewares and other garage-sale items are plentiful.
"It's awesome," Monroe said about working at Classy Rack as well as what the Union Gospel Mission has meant to her.
The day begins with a prayer and a talk for Monroe and many of her co-workers. Bible study class is midday, every Wednesday. There are other Christian-based activities, all encouraged as workers remain on the clock. The employees are "governed" by an accountability committee of their peers. Slew said if someone gets out of line, he is called on for his input.
"Our goal is to incorporate ministry to help people become God-dependent, self-sufficient members of society," Slew said.
Employee Sunday Groce, a 34-year-old recovering cocaine and heroine addict who served three years at Pine Lodge Corrections Center for Women, meets with her probation officer on her lunch hour. She said she's in the process of getting custody of her two daughters. The oldest, 17-year-old Santana, has been working at the store over the summer.
"It's not like any other job I've had. We're more of a family here," said Groce, while moving a heavy box of used clothes. "It's about people's trials and tribulations. All of us have had troubles, hurts and pains."
Local journalism is essential.
Give directly to The Spokesman-Review's Northwest Passages community forums series -- which helps to offset the costs of several reporter and editor positions at the newspaper -- by using the easy options below. Gifts processed in this system are not tax deductible, but are predominately used to help meet the local financial requirements needed to receive national matching-grant funds.
Subscribe now to get breaking news alerts in your email inbox
Get breaking news delivered to your inbox as it happens.
---