News > Nation/World
Texas standoff heating up
Fri., Aug. 26, 2005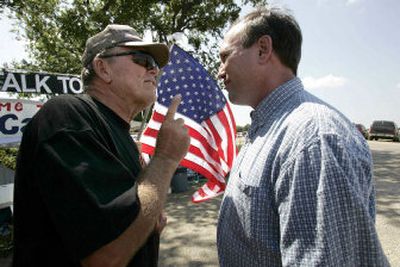 WACO, Texas – The standoff between President Bush and anti-war protester Cindy Sheehan escalated Thursday with emotional appeals from both sides, each invoking sacrifices made by Americans after Sept. 11, 2001, to bolster their case.
With six days remaining until Sheehan's self-imposed deadline to leave Crawford, Texas, there seems little sign of her anti-war efforts ending with her departure. In a briefing for reporters, Sheehan said she is planning an antiwar bus tour of the country next month, ending Sept. 24 in Washington, where she plans to set up a permanent vigil until Bush agrees to meet with her, as she has sought in Texas.
Both the president and Sheehan returned to Crawford on Wednesday, to find the protests larger and more organized than when they left.
Meanwhile, dozens of Bush supporters are camping along the perimeter of the ranch, opposite the tent Sheehan used when she first arrived. More supporters of the "You don't speak for me, Cindy" tour, are expected to arrive in the next few days.
The activities of both protests have occupied the narrow, winding country roads for three weeks, and are expected to come to a head Saturday, with each side planning a major rally.
Anti-war protesters said their demonstration would be themed "How Many More?"
Local journalism is essential.
Give directly to The Spokesman-Review's Northwest Passages community forums series -- which helps to offset the costs of several reporter and editor positions at the newspaper -- by using the easy options below. Gifts processed in this system are not tax deductible, but are predominately used to help meet the local financial requirements needed to receive national matching-grant funds.
Subscribe now to get breaking news alerts in your email inbox
Get breaking news delivered to your inbox as it happens.
---