News > Spokane
West recall drive starts
Fri., Aug. 26, 2005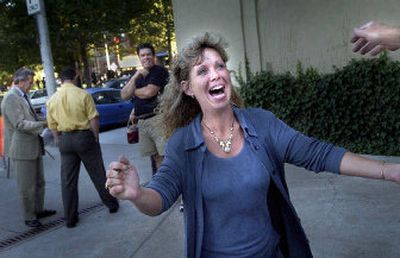 OLYMPIA – Critics of Spokane Mayor Jim West on Thursday launched their petition drive for 12,567 signatures: the number needed to trigger a citywide recall vote.
"I wanted the citizens of Spokane to have a voice, and they have a voice now: they can put their name on the petition or not," said Shannon Sullivan, a divorced mother who convinced two courts to allow the recall vote.
Enjoying new momentum from Wednesday's swift state Supreme Court ruling, recall organizers are hoping a combination of quick signature gathering and steady public pressure will secure the measure a spot on the Nov. 8 general election ballot.
But the drive got off to a confused start, with Sullivan and one of her attorneys initially insisting that, under state election law, Spokane County election officials had just 15 days to verify that all the signatures were from legitimate city voters.
No such deadline exists, state and county attorneys said Thursday. After checking, Sullivan and attorney Jerry Davis agreed – but said they still plan to push County Auditor Vicky Dalton to get the verification done in time for Election Day.
County elections manager Paul Brandt said that unless someone shows up with 12,567 valid signatures today – which isn't expected to happen – it's likely that the recall vote would take place later in November, in December, or in January. Since the county will be wrestling with the Sept. 20 primary soon, he said, it will probably take three to four weeks to verify the West recall signatures.
"This has to be done right," Brandt said.
The county will hire temporary workers to help, he said, but they'll still need training to use the computerized voter records.
"And in the middle of this, we have a person from the State Patrol coming in to do training on voter verification," Brandt said. "It's not like we're dragging our feet on these petitions. We've got a heck of a lot going on."
Still, the recall proponents say they'll put the pressure on. Dalton has said that if the city holds a special election – even if only by mail – it will cost $140,000 to $160,000.
"She (Dalton) is an elected official, and works for the citizens of Spokane," said Sullivan. "I don't want this to cost the city of Spokane $160,000 when we're looking at a $6 million deficit. She will do the job she was elected to do. It is an emergency matter of the people."
"It's August and they're saying we can't have it on the (November) ballot?" said Mark Hodgson, another one of the attorneys advising Sullivan. "It's kind of an important issue. It's not like we're trying to get ice cream in the schools."
Tom Wilbur, the former longtime superintendent of elections in Spokane County, said the verification could be done fairly quickly if the county has enough workers and computer terminals.
"We did 30,000 signatures in about three days," he said. "It's almost mind-boggling to say that it will take four weeks to do it. That's ridiculous."
Even under the old paper card system, he said, one worker could verify about 600 signatures per day.
"It's not rocket science," Wilbur said. "Either the signature matches or it doesn't, and if it doesn't, you just go on to the next one." Sullivan and other recall supporters have said they plan to gather well over the 12,567 needed, to make up for the typical rejection rate of 20 percent to 30 percent. Brandt said it's common for people who don't live in the city to sign such petitions, even though they can't legally vote there. Others sign but aren't registered to vote at all. To weed out those folks, workers must compare signatures and check addresses.
"It's a tedious process, and this is all at the same time that we're trying to run a primary election," he said.
An hour after arriving back in Spokane from her appearance at the Supreme Court, Sullivan and her supporters stood in front of City Hall and passed out petitions seeking a vote on whether West should be recalled for abusing his office. Sullivan was first to sign her name.
City Councilman Bob Apple, who grabbed four petitions, said he will take the petitions to the Comet, his bar and restaurant in Hillyard, and have them available for customers to sign.
Like many of the people who took the freshly printed petitions, Spokane resident Eileen Delong said filling the lines will be easy.
"I have many friends and coworkers who are very, very anxious to sign this," she said.
A local talk-radio station has pledged its help, Sullivan said, and organizers plan to put up a booth at the upcoming Pig Out in the Park.
"It's a political process at this point," said Hodgson. "I really believe in Shannon Sullivan, but if people believe in Jim West, then by gum go out and show it."
Local journalism is essential.
Give directly to The Spokesman-Review's Northwest Passages community forums series -- which helps to offset the costs of several reporter and editor positions at the newspaper -- by using the easy options below. Gifts processed in this system are not tax deductible, but are predominately used to help meet the local financial requirements needed to receive national matching-grant funds.
Subscribe now to get breaking news alerts in your email inbox
Get breaking news delivered to your inbox as it happens.
---