Sports
Mediocre is just fine
Tue., Aug. 30, 2005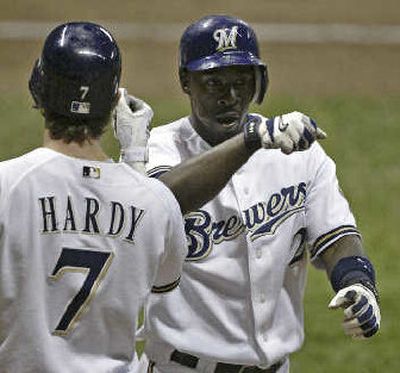 MILWAUKEE — Hall of Famers Paul Molitor and Robin Yount were still playing the last time the Milwaukee Brewers had a winning season.
President Bush was in the White House — that's George Herbert Walker Bush — and his son was still running the Texas Rangers when Milwaukee went 92-70 under Phil Garner in 1992. The Brewers followed that by losing 93 times in '93 and haven't been the same since.
Now the Brewers, whose 12-year run of losing seasons is tied with the Pittsburgh Pirates for the longest current drought in major pro sports, are on the cusp of ending their ignominious streak.
Entering a two-game set against the Pirates on Tuesday night, the Brewers are 64-67 and will play 19 of their final 31 games at Miller Park, where they are 34-28 so far.
General manager Doug Melvin received a requisite letter from the commissioner's office last week listing the rules for submitting postseason rosters by Wednesday. He can't recall getting the same letter last season, when the Brewers went through a 22-53 tailspin after the break.
"If I did, it went into the garbage pail," he said.
This time, he's allowing himself to flirt with the notion of an improbable run at the wild-card even though ace Ben Sheets was lost for the season last week with a torn back muscle.
Sheets missed much of the first half with an inner ear infection, but the Brewers managed to stay around .500 even with rookies J.J. Hardy, Rickie Weeks and Prince Fielder going through growing pains. Also, their much-hyped hitting duo of Carlos Lee and Geoff Jenkins has sputtered all summer, never able to get going at the same time.
Lee drove in a franchise record 76 runs before the All-Star break while Jenkins was mired in a prolonged slump. Jenkins has been on a tear since the break, but Lee has cooled off.
Manager Ned Yost isn't wondering what might have been, though. He's happy to have had at least one hot bat in his lineup the whole season.
"They've each carried us for a half," Yost said. "If we get them both hot for the last month, we'd be in pretty good shape. Guys get into funks. You just don't want two guys getting into one at the same time because then that creates huge problems."
And the Brewers are intimately familiar with those.
Jenkins is the Brewers' longest tenured player after arriving in Milwaukee in 1998, which followed close calls in '96 (80-82) and '97 (78-83). He's spent his whole career wondering what it would be like to play for a winning club. He'd like to find out this year.
"(It) would be big," he said. "Obviously, we want to see it as much as the fans do. We've got a tough schedule the rest of the way. We've got a lot of home games, which bodes well for us; we've played well at home all year. We just keep pushing along."
New owner Mark Attanasio increased player payroll from a league-low $27.5 million last year to more than $40 million this season and says that as part of his commitment to fielding a competitive club, he'll bump payroll another 20 percent.
"It's rare a team has a Cinderella year where they have a lot of losing seasons and then all of a sudden make it to the playoffs, unless you can go out and buy a bunch of talent," infielder Bill Hall said. "For us … we want to get to .500 and keep moving from there."
Local journalism is essential.
Give directly to The Spokesman-Review's Northwest Passages community forums series -- which helps to offset the costs of several reporter and editor positions at the newspaper -- by using the easy options below. Gifts processed in this system are not tax deductible, but are predominately used to help meet the local financial requirements needed to receive national matching-grant funds.
Subscribe to the sports newsletter
Get the day's top sports headlines and breaking news delivered to your inbox by subscribing here.
---