News > Spokane
Festival lights up Spokane Valley
Fri., Dec. 2, 2005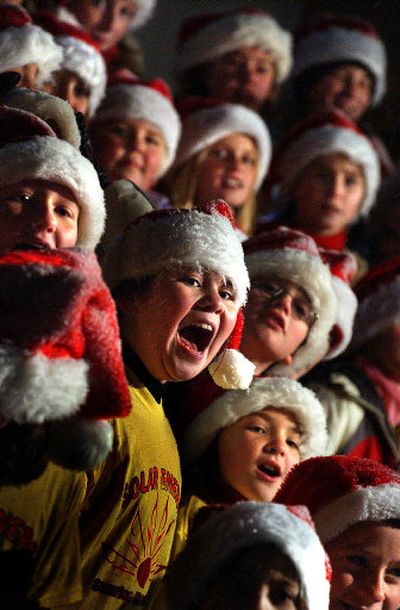 The plump snowflakes that glistened as they fell in front of the stage spotlights couldn't deter holiday revelers in Spokane Valley on Thursday night, as families gathered in front of the old University City Mall to celebrate the third annual Festival of Lights.
"Now, who said a little bit of snow is going to slow this group down?" Councilman Mike DeVleming said with a grin almost as bright as his neon-green stocking cap.
Some 60 kids festooned in red Christmas hats jiggled merrily on the platform behind him, in spite of the 30-degree weather.
As the festivities got under way, about 150 people gathered to see Sunrise Elementary's Solar Energy Choir, solo performances by local talent Amada Tsubota and the big elf himself.
"It's a great thing for the community," said Jeni Watts as her daughter MacKynzie, 10, sang in the choir.
The crowd was far smaller than last year, something organizers attributed to the weather challenges that come with a white Christmas.
All the same, young and old said they had a good time, many cradling cups of complimentary hot chocolate.
After a few carols, Santa Claus made an impressive entrance riding in an armored personnel carrier, courtesy of the Sheriff's Department.
Until then, the choir's performance had been the best part of the night for Juliann Runolfson and her sons – Zach, 3, and Austin, almost 2.
"We've changed our mind," Runolfson said.
"It's Santa showing up on a Humvee, or whatever."
Saint Nick then guided the children in a couple more songs before their shouts finally commanded that the tree be lit.
When he asked the children what they wanted for Christmas, the answers ranged from stuffed animals to a portable DVD player.
In an interview afterward, Mr. Claus said that, overall, the children in Spokane Valley had been pretty good this year, and that he really liked the city's tree.
The 30-foot synthetic pine was purchased with $12,000 raised when then-Mayor DeVleming started the festival in 2003.
The city does not officially sponsor the event.
"It really is the start of a community event that really needs to keep on rolling," DeVleming said afterward, between praising fourth- and fifth-graders from the choir and helping volunteers pack up.
Festival organizers raised about $1,200 this year, not to mention the donated refreshments and the assistance of workers from a few utility companies who helped him set up the tree, DeVleming said.
In the off-season, the city's Christmas tree is stored in the old J.C. Penney building at U-City.
Until then, it will shine as Spokane Valley's gesture of Christmas tidings to all who pass on Sprague Avenue.
Local journalism is essential.
Give directly to The Spokesman-Review's Northwest Passages community forums series -- which helps to offset the costs of several reporter and editor positions at the newspaper -- by using the easy options below. Gifts processed in this system are not tax deductible, but are predominately used to help meet the local financial requirements needed to receive national matching-grant funds.
Subscribe now to get breaking news alerts in your email inbox
Get breaking news delivered to your inbox as it happens.
---