News > Spokane
Holiday bazaar raises awareness
Mon., Dec. 5, 2005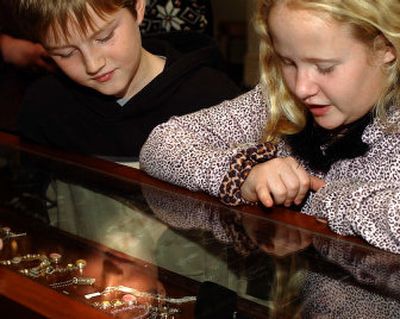 Ron Seaman has two interests: lavender and cops.
When he's not helping run the Leisure Lavender Farm, the Seaman family's Otis Orchards business, he likes to do ride-alongs in squad cars. Although he enjoys the adrenaline rush of being a backseat police officer for a day, the number of domestic problems breaks his heart.
"Everybody needs to ride to see what those poor policemen go through and how special they are," said Seaman, who arranges an occasional ride through the police department.
Seaman, his wife, Judy, and Judy's daughter, Elicia, spent Sunday selling sachets, lotions and other products from their farm to raise money for the Spokane County Domestic Violence Consortium.
Jewelers, florists and other artisans sold their wares alongside the Seamans at the consortium's first-ever holiday bazaar. The organization expected to raise $2,000 for its programs, which help victims of abuse.
The bazaar "is critical for us, with all the government cutbacks," executive director Jennifer Pearson-Stapleton said.
Among the group's programs are two aimed directly at domestic violence's youngest victims. The consortium created the Children's Waiting Room, a free drop-in child care facility at the Spokane County Courthouse for children whose parents are handling court business. That service cares for 1,200 children a year.
Each year, the consortium also teaches 3,000 elementary school children relationship skills, healthy boundaries, warning signs and other tools to help prevent abuse.
Pearson-Stapleton said abuse affects children equally, regardless of whether they were the ones who were hit or demoralized or if they watched a loved one suffer physical or emotional abuse.
Stepping in with prevention programs for youths is the only way to break the cycle, she said.
"It's such a sick issue because it recurs from generation to generation," Pearson-Stapleton said.
Until a couple years ago, the consortium, which formed in 1993, operated on about $750,000 a year. Most of that money came from federal grants. Its budget has been slashed almost in half – to $400,000 a year – as funding sources have gone dry, Pearson-Stapleton said.
The consortium is now turning more to local funding, such as through the holiday bazaar, to avoid drastic cuts to its programs.
Pearson-Stapleton worries, though, that many charity dollars have gone to victims of the Gulf Coast hurricanes and to other out-of-town causes this year. That could have a detrimental effect on local nonprofit groups, she said.
"I think we're going to lose a lot of programs this year," she said, referring to the community as a whole.
About 200 people attended Sunday's bazaar at the Spokane Club in downtown Spokane.
The consortium has held a spring bazaar twice now and conducts other fund-raisers.
It also is always collecting used cellular phones to either trade for cash or refurbish and provide to domestic violence victims, who can call 911 for free.
Just two weeks ago, at a sheriff's deputy's request, Pearson-Stapleton gave one of those phones to a woman who had heard her ex-boyfriend was on his way to Spokane to kill her.
"It was a really serious threat" to the mother of three, Pearson-Stapleton said. "That (phone) was a real relief to her."
Local journalism is essential.
Give directly to The Spokesman-Review's Northwest Passages community forums series -- which helps to offset the costs of several reporter and editor positions at the newspaper -- by using the easy options below. Gifts processed in this system are not tax deductible, but are predominately used to help meet the local financial requirements needed to receive national matching-grant funds.
Subscribe now to get breaking news alerts in your email inbox
Get breaking news delivered to your inbox as it happens.
---