News > Spokane
Hoping for the holidays
Mon., Dec. 5, 2005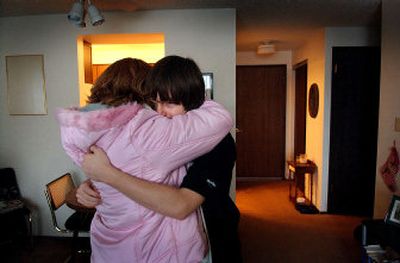 A 14-year-old boy, who for the past three months has been barred from Fairchild Air Force Base where his family lives, will learn soon whether he can go home in time for Christmas.
The fate of Christopher Bishop, who has been accused of repeated theft and vandalism, is in the hands of the base commander, Col. Scott Hanson, who received a recommendation from a review board on Friday as to whether the boy may live with his family again.
The Air Force declined further comment on the recommendation. Hanson is expected to decide on the case this week.
On Sept. 6, after Christopher's family had returned from vacation in Oregon, the boy, who had had several run-ins with base security, received a letter dated Aug. 26 from Hanson, stating that he considered the eighth-grader's "continued presence on this installation to be detrimental to the maintenance of good order and discipline."
Heather Johnson, Christopher's mother, has been fighting the Air Force ever since and has asked U.S. Rep. Cathy McMorris, R-Wash., to intervene. Johnson visits her son every day in Medical Lake, where he is living with family friends.
"I've been in people's offices since Sept. 7," said the wife of Master Sgt. Tom Johnson, who has been stationed at Fairchild for more than 20 years. "This is my son's life we are talking about here. I don't think they thought that I would fight this hard."
As a result of Christopher's case, Hanson ordered the creation of a permanent juvenile review board because of the "particularly significant ramifications for military families that live on base," Fairchild Public Affairs announced in a statement on Friday.
What prompted the U.S. Air Force to come between Johnson and her child?
According to Hanson's written response to an inquiry into the matter from McMorris' office, Christopher "engaged in a pattern of misconduct in the base family housing area over an eighteen-month period (December 2003-June 2005), which began with the vandalism of neighbors' Christmas decorations, continued with repeated instances of theft and culminated most recently with the destruction of government property."
The Spokesman-Review has not received Christopher's police file, which it requested a week ago. In response to the newspaper's inquiry, base Public Affairs wrote, "His involvement in what the installation commander viewed as repeated and increasingly serious incidents of misconduct led to him being barred from the base."
Johnson said her son, who has been diagnosed with attention deficit hyperactivity disorder (ADHD) and depression, never has been charged with a crime and was not involved in the November 2004 theft of skateboards, in which he was implicated. In February, when Christopher's little brother received a stolen skateboard as a birthday present from two boys who also live on base, Johnson reported it to base security immediately, she said.
As for the vandalism, she said her son has accepted responsibility for tackling and bursting a 13-foot-tall inflatable Santa Claus when he was 12 and for breaking a sprinkler head last May.
But, Johnson said, the order barring her son from the base for one year came without warning or discussion and was "effective immediately."
When Johnson called security forces asking for 24 hours to make arrangements for her son, she said, she was told by her husband's first sergeant in the 92nd Civil Engineer Squadron, Master Sgt. Lenny Axelson, "Ma'am, there are cheap hotels downtown for your son."
Now Christopher lives with family friends in Medical Lake, after spending two months in the retirement home of his grandmother, Christine Bishop. His stay at Hearthstone Apartments was the maximum time allowed by the facility. Johnson said the family of seven cannot afford to move off base even if it could find a home in the Medical Lake School District, where her son is enrolled in a special program for students with his disorder.
Hanson was unavailable for comment last week, according to a Fairchild public affairs spokesman. The deputy commander, Lt. Col. Richard Binger, declined to be interviewed. Hanson is authorized by federal law and U.S. Department of Defense regulations to bar individuals from the base to maintain "good order and discipline." According to Public Affairs, 148 people currently are barred from Fairchild, but very few of these cases involve the dependents of military personnel.
The letter barring Christopher stated that the family could appeal the order "if a compelling reason exists" that might result in the order being rescinded.
Johnson, who said she has tried without success to see her son's police record, appealed on Sept. 9 and has been gathering information in defense of her son, including an Oct. 17 letter from Christopher's psychologist stating that the boy has been diagnosed with ADHD and depression.
"I would hope that Christopher can be returned to his mother and his stepfather, Tom Johnson, and their family," wrote psychologist Janice Simchuk of Inland Psychiatry and Psychology. "I think it would be very detrimental to this young man to be isolated from the only male figure that he has deemed as a father figure in his life."
The Public Affairs statement said that before Johnson's appeal, information provided by the mother about Christopher's mental health "was never before brought to the attention of anyone at Fairchild AFB involved with this case."
"That's not true," Johnson said. "In May after the sprinkler-head incident, my husband informed Axelson that Christopher was under the care of a psychologist and was being treated on base as well."
Johnson said she has been unsuccessful in her efforts to meet personally with Hanson to discuss her son's case.
"I'm appalled that this action was allowed to happen without first discussing the issues with the parents," Johnson wrote Hanson on Sept. 9. "I hope you will read this letter and assist me with the task of returning my son to his home with his family."
Deputy commander Binger responded to Johnson's appeal with an Oct. 27 letter to Johnson's husband.
Binger wrote that a juvenile review board would "reconsider Christopher's barment" – but only after the family had provided answers from the boy's parents and mental-health providers to questions about his behavior, treatment, ability to obey rules and compliance with prescribed medication. Binger also asked how his parents have involved themselves in Christopher's discipline and therapy and what they had done to educate themselves about his disorder.
Christopher's mother, stepfather, therapist and the psychiatrist who diagnosed the boy all responded in early November. Yet a juvenile review board did not convene on the case until Friday, after having been contacted by The Spokesman-Review.
On Nov. 1, Heather Johnson, a former medical assistant at Rockwood Clinic, wrote Binger that she was pursuing her degree in adolescent psychology, that she was actively involved in her son's therapy and that research has shown that ADHD is not the result of "parenting issues." Nevertheless, she said her parenting skills are "considerably better than most parents on this base," and she was willing to provide proof of this.
She added that barring her son from base "has put my son in danger emotionally and physically and that is unacceptable by any standards."
Simchuk wrote that Christopher "truly understands the consequences of his actions while living on base and has developed increased maturity regarding his behavior."
Dr. Sandra Bremner-Dexter wrote that she had diagnosed Christopher with ADHD, had prescribed medication and would evaluate its effectiveness.
Master Sgt. Johnson's letter provided insight into his relationship with his stepson and the effect Christopher's ouster has had on the family.
At first, Johnson said, he "did not agree with or understand" his stepson's diagnosis. It was not until Christopher came to him and asked for medication that the stepfather was able to equip himself with necessary parenting tools to raise the boy "in a positive and nurturing environment."
He said that Christopher's forced separation had strained his relationship with his wife and caused his smaller children to suffer as well.
"It has been difficult to even enjoy the smallest of occasions knowing that our son is not here to enjoy them as well," Master Sgt. Johnson wrote.
"Every day I am thinking of a way to reunite our family without causing emotional or economic hardships and it is not possible," he wrote Binger. "I understand that moving off base would have solved the issue, and we would have done so if we were financially able, but moving now would cause us to fall behind in months of bills and cause us to not have a Christmas for our family."
As an Air Force master sergeant, Johnson makes $3,600 a month and is eligible for a $980-a-month housing allowance, which he receives only if he lives off base. When he was promoted on Aug. 1, his wife quit her job at Rockwood Clinic to pursue her psychology degree at Eastern Washington University.
Now she is looking for work again after depleting much of the family's savings on such things as hotel rooms to spend weekends with her son and payments of $50 to $75 a week to her mother and friends who have provided room and board to him.
Besides Christopher, to whom Johnson gave birth when she was 16 years old, the family includes John, 9, and Amberly, 8, from a previous marriage; and Amy, 18, and Tommy, 16, from her husband's previous marriage. None of Christopher's siblings has gotten into trouble while on base, Johnson said.
Included in the packet of information the family provided to the juvenile review board were several letters from residents of the grandmother's retirement facility and a neighbor on base vouching for Christopher's character.
Christopher's case was perhaps best-stated by his little brother, John.
"I would like my brother Chris back on base because I miss him and bearly (sic) see him now. My brother has made some mistakes but he learnt from them and knew his mistakes were wrong," the 9-year-old wrote. "Chris loves us very much and wants to see us. Please allow him on base.
"P.S.: I would like him back. Sincerely, John."
Local journalism is essential.
Give directly to The Spokesman-Review's Northwest Passages community forums series -- which helps to offset the costs of several reporter and editor positions at the newspaper -- by using the easy options below. Gifts processed in this system are not tax deductible, but are predominately used to help meet the local financial requirements needed to receive national matching-grant funds.
Subscribe now to get breaking news alerts in your email inbox
Get breaking news delivered to your inbox as it happens.
---