News > Nation/World
Protesters want right to vote
Mon., Dec. 5, 2005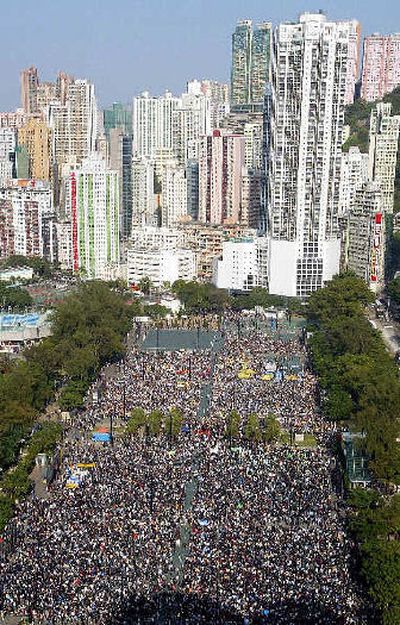 HONG KONG – Pressure mounted for Hong Kong and Beijing leaders to respond to calls for full democracy in this Chinese territory as tens of thousands of protesters marched Sunday, demanding the right to choose their leaders.
Wearing black T-shirts, the protesters – led by pro-democracy lawmakers – marched from Hong Kong's Victoria Park to the government headquarters downtown. Several protesters carried huge, makeshift bird cages to suggest the democratic development has been stalled.
Outside the headquarters, protesters demanded Hong Kong leader Donald Tsang respond immediately to calls for a roadmap specifying when and how the territory can have universal suffrage, promised as an eventual goal under its mini-constitution.
"I can't think of anywhere else in the world that you can have such large number of people turning out in such a peaceful manner to ask for something which is of their own right," said Ronny Tong, a lawmaker and march organizer.
Organizers said the protest drew 250,000 people – far exceeding analysts' forecast of between 50,000 and 100,000. Police put the turnout at 63,000.
When Hong Kong was a British colony, its rulers denied residents the freedom to elect their leaders and full legislature. The tradition has continued since the city returned to China in 1997 under a "one country, two systems" formula that promised Hong Kong wide autonomy.
Sunday's turnout could mean hopes are faltering for the government to push through a package of political changes that critics say is too conservative.
The proposed changes call for doubling the size of the 800-member committee that picks Hong Kong's leader and expanding the 60-member legislature, as a step toward greater democracy.
Tsang and Beijing insist that much needs to be done before the city becomes fully democratic. They claim Hong Kong's political culture is still immature and extensive discussions need to be held about how democracy would work.
Some analysts say Beijing is stalling on democratic reforms because the Communist leadership fears that it would lose control of Hong Kong's government – which under a democracy would care more about answering to the public.
Tsang said he shares the protesters' goals.
"Both the central government and this administration are actively leading this community towards universal suffrage in an orderly fashion," Tsang said at a news conference. "I am 60 years of age. I certainly want to see universal suffrage taking place in Hong Kong in my time."
Opposition lawmakers criticized Tsang's response.
"I don't think he answers the call for democracy of the 250,000 people that marched on the streets," said lawmaker Lee Cheuk-yan. "We want to see concrete actions."
Lee and about 50 other protesters held a sit-in at government headquarters into early this morning, chanting slogans for democracy and refusing to leave. They were removed by police peacefully before dawn, television reports showed.
Local journalism is essential.
Give directly to The Spokesman-Review's Northwest Passages community forums series -- which helps to offset the costs of several reporter and editor positions at the newspaper -- by using the easy options below. Gifts processed in this system are not tax deductible, but are predominately used to help meet the local financial requirements needed to receive national matching-grant funds.
Subscribe now to get breaking news alerts in your email inbox
Get breaking news delivered to your inbox as it happens.
---