Sports
McGrady, Yao overpower Kings
Fri., Dec. 9, 2005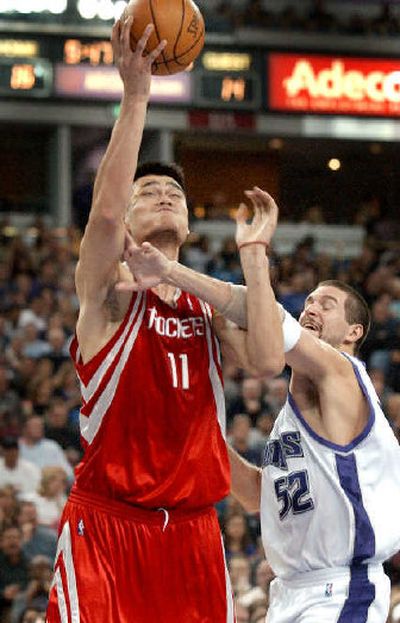 Tracy McGrady scored 28 points, and Yao Ming added 21 points and nine rebounds as the Houston Rockets beat Sacramento 106-95 on Thursday night to extend the Kings' losing streak to five.
Houston has won three of four games since McGrady returned to the lineup following a back injury. Derek Anderson added 16 points, and David Wesley had 12.
Houston, which opened a six-game, 11-day trip, was 1-9 in its previous 10 games at Arco Arena, where the Kings are an uncharacteristic 6-7 this season.
Mike Bibby had 24 points and six assists for the Kings, who have lost four games at home for the first time since the 1997-98 season. Brad Miller and Bonzi Wells each scored 21 points, and Peja Stojakovic added 15.
Pacers 111, Wizards 87: At Indianapolis, Stephen Jackson scored 30 points and Jermaine O'Neal had 25 to help Indiana beat Washington.
The Pacers bounced back from losses to Seattle and Dallas, despite playing without forward Ron Artest. Artest, the NBA leader in steals per game and Indiana's second-leading scorer, missed the game because of a right wrist injury.
Without Artest in the lineup, Anthony Johnson and Fred Jones shared the responsibility of guarding Washington star Gilbert Arenas, the league's fourth-leading scorer. Arenas was averaging 28 points, but the Pacers held him to 17 on 5-for-18 shooting. Antawn Jamison added 16 points and 12 rebounds for the Wizards.
Off the court
Former Purdue basketball coach Gene Keady has decided that nine months away from basketball is long enough, and he's coming out of retirement to take a position with the Toronto Raptors.
Keady, who retired in March after going 512-270 in 25 seasons with the Boilermakers, said he had not been looking for another job in basketball before Raptors executive Wayne Embry called him last month to talk about becoming a consultant or bench coach.
Keady said his exact duties had not yet been decided.
"I'm excited about it," he said. "I've kind of left it up to (the Raptors) as to what they would like me to do. They have a lot of young talent, and I like their guys and their coaching staff. I'm looking forward to it."
Raptors spokesman Jim LaBumbard said Thursday that the team had reached an agreement in principle with Keady but that a contract had not been signed.
•The 76ers waived forwards Deng Gai and James Thomas.
Gai, a 6-foot-9 rookie forward, was signed by the Sixers as a free agent and played in just two games this season.
Thomas, a 6-8 forward, played in 15 games, averaging 1.5 points, 2.1 rebounds and 8.3 minutes.
Local journalism is essential.
Give directly to The Spokesman-Review's Northwest Passages community forums series -- which helps to offset the costs of several reporter and editor positions at the newspaper -- by using the easy options below. Gifts processed in this system are not tax deductible, but are predominately used to help meet the local financial requirements needed to receive national matching-grant funds.
Subscribe to the sports newsletter
Get the day's top sports headlines and breaking news delivered to your inbox by subscribing here.
---