News > Spokane
School bus overturns with 20 students aboard
Fri., Dec. 9, 2005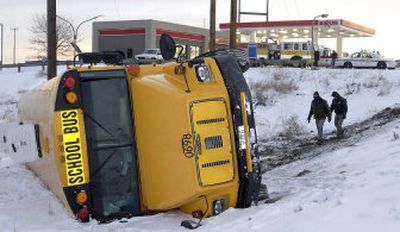 BILLINGS – A bus carrying about 20 students to Billings Senior High School on Thursday morning went off the highway and slid down an embankment on its side.
Initial reports indicate no one was seriously injured, but the school district said nine students were taken to local hospitals, the Billings Gazette reported on its Web site.
One student was taken to the ambulance on a backboard.
The bus went off U.S. Highway 87 shortly after 7 a.m.
Students who were not injured were taken to a nearby gas station and given hot chocolate and phones to call home, said Dawn Davis, assistant manager of the Lockwood Exxon.
One student, Kyle Duneman, told the Gazette:
"The bus kept going straight at the corner, and the driver, Corky, said the accelerator stuck."
Several other students appeared unscathed after the accident.
"I hope I don't have to go to school today," said Jordan Simpson. "All I did was cut my finger."
Students who did not need medical attention were picked up by their parents or driven to school in other buses.
The highway patrol and the Yellowstone County Sheriff's Office were investigating the accident.
Local journalism is essential.
Give directly to The Spokesman-Review's Northwest Passages community forums series -- which helps to offset the costs of several reporter and editor positions at the newspaper -- by using the easy options below. Gifts processed in this system are not tax deductible, but are predominately used to help meet the local financial requirements needed to receive national matching-grant funds.
Subscribe now to get breaking news alerts in your email inbox
Get breaking news delivered to your inbox as it happens.
---