News > Spokane
West departs on routine note
Fri., Dec. 16, 2005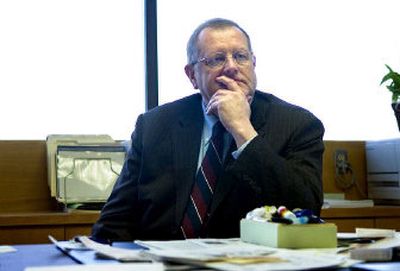 Jim West left his fifth floor City Hall office for the last time as mayor Thursday after a routine day.
West, whose term will end shortly after 9:30 this morning when the results of the Dec. 6 recall election are certified, held his regular daily Cabinet meeting with all city department heads, discussed labor negotiations and attended a service club luncheon where the featured speaker talked about the journalism that led to his ouster.
He started the one-hour Cabinet meetings soon after taking office in January 2004, an idea borrowed from a book by former New York Mayor Rudy Giuliani. At first West said he worried about taking an hour out of the day of busy executives like the police chief. But he decided if New York's police commissioner could handle it, Spokane's chief could too.
"People could catch me after a meeting for a few minutes. They didn't have to set up an appointment," he said.
Police Chief Rodger Bragdon said Thursday the meetings have helped each department head learn what was going on around the city, learn about other's problems and ask for help when they need it.
Some days the meetings involve intense discussions of pressing city problems. The biggest issue West recalled from Thursday's meeting was a discussion of the number of photocopy machines the Police Department has, which is greater than other city departments.
The group emptied a wooden cigar box that keeps the $1-per-minute fines for members who show up late to the 8 a.m. meetings. Deputy Mayor Jack Lynch will use the $60-plus for a "Christmas family" city workers are helping. They posed for a group picture, possibly the only one ever taken, said city Chief Financial Officer Gavin Cooley.
City Council President Dennis Hession, who will become temporary mayor today when the results are certified and is expected to be appointed by the council Monday to the rest of West's term, said he'll ask department heads for their advice about continuing the meetings. The ones he's attended have been helpful, Hession added, but he's not sure they need to be every day.
West described the rest of his calendar for his last day as strictly routine. He met with Lynch and union leaders about negotiations briefly after the Cabinet meeting, had e-mails and letters to open and phone calls to return. Most of his personal items have already been removed from the office with its commanding view of Riverfront Park, the Spokane River and the north bank.
"One of the best views in Spokane," he said.
Leather office furniture, which he bought with his own money, will likely stay and the city will reimburse him, public affairs officer Marlene Feist said later.
At lunch, West attended the regular meeting of the Spokane Downtown Rotary Club at the Ridpath Hotel, where the guest speaker was Steven A. Smith, editor of The Spokesman-Review, and the topic was the newspaper's journalism.
"It's my Rotary Club," West said with a shrug when asked why he was attending.
He sat at a center table near the front as Smith explained the goals of serving as a watchdog on government and empowering citizens, and how that fit with the newspaper's reporting on West. The mayor may have done good work, even extraordinary work, while in office, Smith said, but it's not the newspaper's job to "weigh good works against bad" and refuse to print stories of West's misuse of office.
West sat silently through the speech and questions asked by other Rotarians, shook hands with longtime friends and acquaintances as he left the hotel, and returned to City Hall to close out his day.
West's future job prospects are uncertain.
He said he has no plans to return to City Hall today. Instead he's scheduled a session of chemotherapy to treat his colon cancer.
Local journalism is essential.
Give directly to The Spokesman-Review's Northwest Passages community forums series -- which helps to offset the costs of several reporter and editor positions at the newspaper -- by using the easy options below. Gifts processed in this system are not tax deductible, but are predominately used to help meet the local financial requirements needed to receive national matching-grant funds.
Subscribe now to get breaking news alerts in your email inbox
Get breaking news delivered to your inbox as it happens.
---