News > Spokane
A smoother transition
Mon., Dec. 19, 2005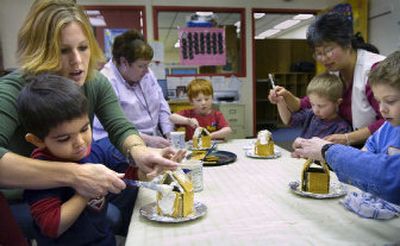 Making a gingerbread house was more than just fun for 5-year-old Holden Freeman. It was a skill-building task.
Freeman, a student in Central Valley's special-education preschool program, was unaware that assembling the frosted treat actually was helping him improve fine motor skills and work on speech development, social skills and following directions.
Central Valley's public preschool program, called REEACH – Reinforcing Early Educational Achievements in Children – helps developmentally disabled children, in part, make the transition to the kindergarten classroom. The more than 90 students in the preschool program, who range in age from 3 to 5 years, are being housed under one roof in a building at the old University High School site, now called University Center.
Together with several of his classmates, Freeman worked on the last day of school last week building his house with gumdrops, lemon drops and peppermint candies.
"It's a motivating task," said Kathleen Kellen, an occupational therapy assistant. "They have to learn to work well with each other and tell us what they need."
Three years ago, communicating with adults and other children would have been difficult for Freeman, who has speech delays.
"You could just tell by age 3, or even 2, when the words are limited, that he would perform gestures instead of asking for things," said his mother, Trina Freeman. His words were garbled, and she couldn't understand him.
Now, three years into the preschool program, Holden Freeman has made a huge improvement in his ability to communicate, his mother said.
Her daughter also attended one of Central Valley's preschool programs for children with speech delays, and now, in the fourth grade, she is able to keep up with her peers.
"Without it, they both would have been so far off going into the regular classroom," Trina Freeman said. "It would have been really hard."
Public preschool has become very popular with parents and an important issue for public school systems. According to Pre-K Now, a Washington, D.C.-based advocacy and research group, more than $600 million has been earmarked for pre-kindergarten by state legislatures for the coming year, the largest single-year increase in the past five years.
But programs like REEACH, which fall under the special-education funding umbrella, continue to be largely underfunded. Central Valley spends more than $1 million from the district's coffers beyond what the state funds to help support special education.
"There's not enough – that's the bottom line," said Becky Imler, director of special services for Central Valley.
And the demand for programs like REEACH continues to grow.
"When I got here five years ago, there were only three preschool special-education classrooms total," said Brenda Vandouris, the school psychologist and principal-designee at REEACH. "Now we have seven classrooms and 11 sessions a week."
The focus of the program also has changed to meet the needs of the children, said Vandouris.
"We have more of a collaboration and team-teaching focus now," Vandouris said.
Teachers are trying to involve more parents with activities such as book fairs and literacy night, where parents learn to read to their children. "We are giving the parents the tools they need to succeed," Vandouris said.
Because REEACH houses students with varying degrees of disabilities, it is important that they are able to work together with other children, including other preschoolers from the district's Early Childhood Education and Assistance Program, which also is housed at U-Center.
"The experience of being in a good preschool will give most children readiness to participate in a group, which is what you do in kindergarten," said Lilian G. Katz, a professor of early childhood education at the University of Illinois. "When you ask kindergarten teachers about the most important tools to help a child to be ready, they talk about those kinds of things."
For special-education students, that's even more important because some have problems blending socially.
Freeman's mother said her son is more social because of the program and can't wait to go to school each week.
"It has helped him experience what he is going to have to go through as a kindergartner," said Freeman's mother. "He gets exposed to what is going to be coming."
Local journalism is essential.
Give directly to The Spokesman-Review's Northwest Passages community forums series -- which helps to offset the costs of several reporter and editor positions at the newspaper -- by using the easy options below. Gifts processed in this system are not tax deductible, but are predominately used to help meet the local financial requirements needed to receive national matching-grant funds.
Subscribe now to get breaking news alerts in your email inbox
Get breaking news delivered to your inbox as it happens.
---