News > Nation/World
Sharon suffers a minor stroke
Mon., Dec. 19, 2005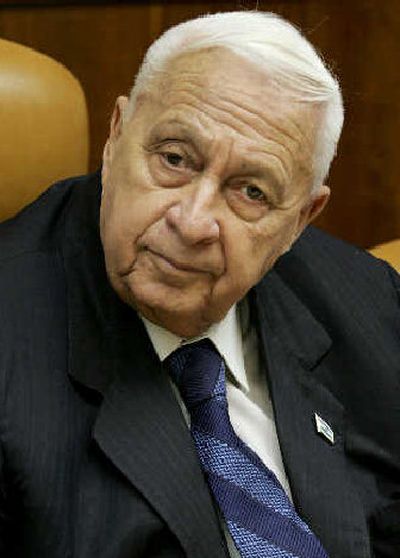 JERUSALEM – Israeli Prime Minister Ariel Sharon was rushed to the hospital Sunday after suffering a mild stroke, but his condition improved and he was expected to be released after a period of observation, his office and hospital officials said.
The episode came in the run-up to an election set for March 28, and could make the 77-year-old prime minister's health an issue in the campaign.
Sharon broke away from the rightist Likud Party last month to form a centrist faction, Kadima, which polls have shown would finish far ahead of other parties, drawing on broad popular support for the prime minister. But doubts about Sharon's health could affect the party's performance and his dominance of the Israeli political scene.
Sharon, who is extremely overweight, has routinely brushed off questions about his health, and is not known to be suffering from any serious ailments.
On Sunday night, aides said, Sharon felt sick after finishing a meeting in his office with Shimon Peres, the former Labor party leader who has joined Kadima.
"The prime minister felt ill, the prime minister walked on his own to the car, and arrived at Hadassah Hospital," Cabinet secretary Yisrael Maimon told reporters.
Sharon underwent a brain scan, and doctors diagnosed the stroke, caused by a blockage of blood to the brain, hospital officials said.
Sharon's personal physician, Dr. Bolek Goldman, said that Sharon's motor skills were intact, and that he had been treated with blood thinners.
"Unequivocally, there is no damage," Goldman said.
Palestinian President Mahmoud Abbas sent Sharon wishes for a speedy recovery, as did Egyptian President Hosni Mubarak and the White House. In Gaza City, however, some gunmen fired celebratory shots in the air and handed out sweets to passing motorists, shouting "Death to Sharon."
Local journalism is essential.
Give directly to The Spokesman-Review's Northwest Passages community forums series -- which helps to offset the costs of several reporter and editor positions at the newspaper -- by using the easy options below. Gifts processed in this system are not tax deductible, but are predominately used to help meet the local financial requirements needed to receive national matching-grant funds.
Subscribe now to get breaking news alerts in your email inbox
Get breaking news delivered to your inbox as it happens.
---