News > Business
2005 stands as landmark year for corporate philanthropy
Wed., Dec. 21, 2005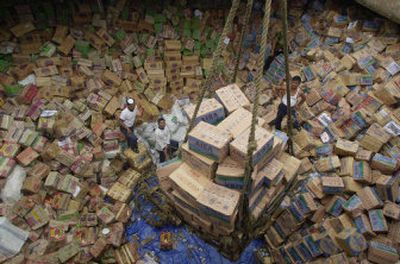 NEW YORK – The deadly natural disasters of the past year have led to more aid from U.S. companies, which are increasingly reaching out to donate money and supplies and provide expertise, training and services.
Corporations and executives' private foundations can now respond faster, helped by the overseas presence of many U.S. businesses which often see an opportunity to advance their strategic interests.
According to the U.S. Chamber of Commerce, the Indian Ocean earthquake and tsunami of Dec. 26, 2004, triggered the largest corporate aid effort for an international disaster and is second only to the $750 million collected after the Sept. 11 terror attacks.
Humanitarian relief experts say the new shifts in philanthropy reflect the reality of a smaller world, where globalization, better communications and large-scale migration are cooperating to boost the profile of natural disasters and humanitarian crises wherever they occur.
And giving can play a significant role in a company's competitive position in the marketplace.
"The private sector is uniquely qualified to raise funds, coordinate rapid response, and leverage resources around the world," said Sanford I. Weill, chairman of Citigroup Inc., in a statement. Citigroup is donating $7 million, including $1 million through an employee matching program, to a relief fund for the victims of the Oct. 8 earthquake in northwestern Pakistan.
"U.S. companies are committed to humanitarian relief and do care as well about improving their image abroad – especially given the anti-American climate," said Maria Schneider of Business Roundtable, an association of chief executive officers of leading corporations.
From big oil firms to retailers to pharmaceuticals, technology and financial concerns, companies are becoming more sophisticated in their giving.
"During this year of disasters – here and abroad – the U.S. private sector has not only been generous financially, but has also provided its expertise and diverse resources to support the outstanding work of relief agencies on the ground," said John J. Castellani, president of Business Roundtable. "Donated medicines, water purification systems, vehicles, satellite phones and logistics and technology know-how have undoubtedly saved lives."
In response to the tsunami, which killed at least 200,000 people in 12 countries, nearly 600 U.S. companies have generated more than $565 million in aid – cash, products and services – for the reconstruction efforts in Southeast Asia, according to the U.S. Chamber of Commerce Center for Corporate Citizenship.
In much the same way, the corporate sector played a crucial role during Hurricane Katrina which ravaged the Gulf Coast in August.
More than 390 companies have given $409 million and collected $138 million in contributions for a total of $547 million, said the Center.
"Corporate philanthropy has become part of a bigger picture as companies realize the social benefits for global communities," said Cari Parsons of the Committee to Encourage Corporate Philanthropy, a New York-based international forum of business CEOs.
Businesses are also getting more involved in global crises outside the scope of their usual cash donations.
"This year U.S. companies have contributed not only more money but also services, supplies, technical expertise, volunteers and training. They are sending doctors to care for the victims," Parsons, the committee's director of operations, said.
In October, five U.S. private sector executives established the South Asia Earthquake Relief Fund to help the victims of the killer earthquake in which at least 87,000 people died and an additional 3.5 million were left homeless, most of them in northwestern Pakistan and Pakistani Kashmir.
The fund was formed by the CEOs of Citigroup, General Electric Co., Pfizer Inc, UPS and Xerox Corp. with the aim of raising $100 million by Jan. 31 to meet "the desperate need for food, medical treatment and supplies" of the quake survivors.
Local journalism is essential.
Give directly to The Spokesman-Review's Northwest Passages community forums series -- which helps to offset the costs of several reporter and editor positions at the newspaper -- by using the easy options below. Gifts processed in this system are not tax deductible, but are predominately used to help meet the local financial requirements needed to receive national matching-grant funds.
Subscribe now to get breaking news alerts in your email inbox
Get breaking news delivered to your inbox as it happens.
---