News > Spokane
U.S. homeless day passes quietly
Thu., Dec. 22, 2005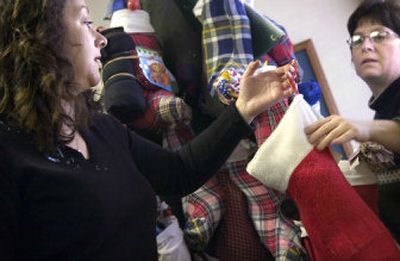 Wednesday was the nation's annual Homeless Persons' Memorial Day, but most organizations that help the homeless in Spokane were too busy to notice.
"I think they're just way swamped," said Robin Waller of Spokane Neighborhood Action Program.
About 100 homeless people in Washington died this year from murder, suicide, hypothermia or natural causes, according to the Washington State Coalition for the Homeless. National Homeless Persons' Memorial Day is sponsored by the National Coalition for the Homeless to remember them and raise awareness of those who remain on the streets.
More than 125 cities in several states held events to recognize the day – including Olympia, which hosted a memorial service on the steps of the Capitol where volunteers read the names of the homeless Washingtonians who have died this year.
In Spokane, organizations that help the homeless, such as House of Charity, held a similar service last month in recognition of national End Homelessness and Hunger Week. Most groups exhausted their efforts then and with Christmas approaching, resources are stretched thin, Waller said. Laurie Willson, community relations and events coordinator for Union Gospel Mission, said her organization would have liked to do something to recognize the day, but preparations for Christmas soaked up all the time and volunteers available.
Volunteers spent Monday and Tuesday wrapping gifts like coats and gloves to give out during the community Christmas Eve dinner and for the 40 men permanently housed at the mission.
One of those is Paul Ostrander.
Though Ostrander doesn't personally know of anyone who has died from hypothermia or other homeless-related causes, he said he knows that remembering those who have died on the streets shouldn't be limited to just one day.
"It should be 365 (days a year), period," Ostrander said.
Ostrander has been living at the mission for almost a year. He takes life one day at a time, he said, choosing to start anew each morning and remember why he's off the streets and off drugs, and why he wants to stay that way.
The Pittsburgh native battled heroin and methamphetamine addictions for 37 years before coming to the mission, embracing its programs and accepting God.
"For me to be clean for 10 months, it's a God thing," Ostrander said.
The media tend to focus on issues involving the homeless during the winter holiday season because of the cold weather and holiday spirit of giving, Willson said, but interest dies down once warmer weather hits.
Nearly 7,300 homeless people sought services in Spokane in 2004, an increase from previous years that experts attribute to better data collecting as well as reductions in social services like Medicaid.
Local journalism is essential.
Give directly to The Spokesman-Review's Northwest Passages community forums series -- which helps to offset the costs of several reporter and editor positions at the newspaper -- by using the easy options below. Gifts processed in this system are not tax deductible, but are predominately used to help meet the local financial requirements needed to receive national matching-grant funds.
Subscribe now to get breaking news alerts in your email inbox
Get breaking news delivered to your inbox as it happens.
---