Santa Claus
Sat., Dec. 24, 2005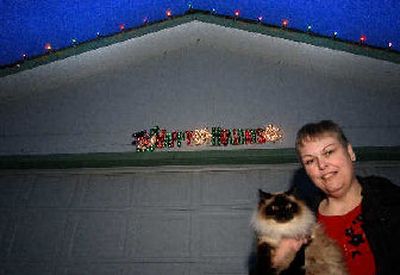 Genna Seidel hasn't made Santa's nice list in years, not because her attitude's in the coal chute, but rather because she's 28 and nominations at that age are nearly unheard of. Let's face it. It's harder to make the nice list when you're old enough to go to war, or not, drive drunk, or not, call your mom every Sunday, or not. A second-grader might make the golden list simply by not picking her nose, but the bar is set higher for someone who is 28.
This year, however, Seidel made the list after she and her husband, Fred, sneaked over to her mother's house Thanksgiving weekend to decorate the front yard.
Vicki Gould pulled into the driveway just asGenna and Fred Seidel were finishing up. Soon she was composing her letter to Santa, which she entrusted The Voice to deliver.
"The thing is, for her to do this surprised me," said Gould, who cannot stand completely upright because of back injuries and could not have decorated the house herself. "This, as a parent, is what you love for your children to (understand)."
Gould simply asked Santa to remember the Seidels. Others mailing letters to Santa asked for more, much more: a cancer cure, a mortgage payment. Sixteen-year-old Casey Slater of north Spokane asked for a visit with Pope Benedict. Slater has been struggling with an eating disorder and thought the pontiff could help her get through it.
Santa, it seems, has become a one in a million shot to make things right, a red-velveteen lottery ticket with magical, Power Ball qualities.
Of course, the younger crowd still limits its wishes to the toy department, for the most part.
When Spring Grisham heard that letters to Santa were running in the Voices, she dug deep into her handbag and found her favorite Santa letter.
The letter written by Josh Dufner, Grisham's oldest son, is short on words, but big on requests.
"Dear Santa," Josh wrote in 2003. "1: Xbox. 2: NHL 2004 hockey game. Please and thank you. Mare Christmas, Josh."
The Xbox alone can set a parent back $200; the video game another $30. The reason Grisham kept the letter tucked away in her purse is for what it doesn't say, that Josh started out with a letter to Santa thicker than the Old Testament.
"Santa doesn't like greedy children," Grisham remembers telling her son. Josh went back to his editing table and narrowed the list to two things. He has never asked for more than two things since, which is why the letter means so much to his mother.
Josh is now 10, and though his writing skills have improved, his correspondence with the Jolly Old Elf has cooled. He's even hinted that he might not put as much stock into the whole Santa thing as his mother does, an issue that arose not long ago when he found, buried in the bottom of his mother's purse, the letter.
"Mom, you never sent my letter to Santa," Josh said, confronting his mother.
"Oh yes I did," Grisham said with a smile. "I faxed it."
The 2005 letters to Santa follow.
Dear Santa,
I live in Spokane, Washington, with my mommy, daddy, grandma and Uncle Brian. I am 3 years old and for Christmas all I want is for my mommy to get well. She has cancer and it makes her tired and sick some days. I love my mommy. I also want a sled and snow to play in.
Avery Plank, north Spokane
Dear Santa,
Please remember my daughter and son-in-law this year; they've been extra nice. Since I was a wee girl, I longed to have a house covered in Christmas lights. When I had children, Christmas presents were more important than lights on the house. I'm now too frail physically to climb the ladder to adorn the house with lights. While away for Thanksgiving the kids surprised me with a lifelong dream come true – my house covered in lights. Please be extra kind to Fred and Genna, they have given me a gift that touched my heart like no other.
Vicky Gould, north Spokane
Dear Santa,
First I would like to say that I am very grateful for all the nice gifts you sent last year! I had asked for more time to spend with my children and you showed me how to turn the television off. I then asked for more patience in dealing with the stress of life and you instructed me how to stop and "smell the roses." Finally, I asked how I could be better understood and you said I must first learn to listen and understand. Wow, what a great year it has been.
Now I ask what can I do for you? I have this cat with a bladder-marking problem. I thought you could use new furry-purry helper, check your mailbox A.S.A.P… it's cold outside.
Thank you for everything.
Craig Coppock, south Spokane
Dear Santa,
I've been very good this year. I don't know if what I'd like for Christmas this year is even do-able, but here it goes. This summer I found out there is a huge lien on the house I live in. My parents both died and I moved in here because if I wouldn't have, I would be homeless.
I found out I can try to get another mortgage on it and pay the lien, and that would be a good thing because then my kids and I would have a home to call our own. The problem is I can't find a full-time job. I work two and a half hours a day, which is all I can find. I have filled out numerous applications and had dozens of interviews, but nothing pays off. So, I work the job I have for now and run the risk of becoming homeless every day.
The worse thing is there are a lot of back property taxes owing still. And I try every year to make a minimum payment. So, we can stay here… I LOVE this house. I have lived here since I was 5. I don't know where to turn for help. I have no family other than my kids and I guess all I want this year is a way to be able to stay here and a good job.
I would really like to be able to get a few presents for my kids. They have been so good this year too. They are the biggest reason I keep trying day in and day out to make a better life and after all the bad stuff I've been through since I was 16. They deserve so much more.
Maybe bring them some gift cards so they can buy clothes and CDs. The dogs would love some dog bones. Oh, and maybe a new decent winter coat and boots for me so when I work outside I won't be so cold.
Thanks, Santa. At least thanks for listening. You'll never know how much I appreciate you listening.
Kathy, Spokane Valley
Dear Santa,
I know you must really be busy this year, but I would really love to go to Italy to see Pope Benedict. You see, I wanted to see Pope John Paul II before he passed away, but I couldn't afford the plane ticket. I have been suffering from an illness for three years now and would love to talk or actually see the pope. I am hoping it will get me through this terrible disease. I hope you and Rudolph are doing well.
Casey Slater, north Spokane
Dear Santa,
#1. A rifle air soft gun.
#2. Two model 24 air soft guns.
#3. A portable radio AM, FM, CD
#4. A liquid metal bat 30 inches 18 oz.
#5. A Mike Cameron jersey.
It's OK with my parents.
Patrick Smith, south Spokane
Dear Santa,
Hi, my name is Jacob Alexander Newcomb. We just moved and I wanted to make sure that you had my new address in Spokane Valley. I didn't want you to forget about me this year because I've been a very good boy.
I started a new school where I get a high-five every day for being good and doing what I'm told. I also get them for memorizing my worship phrases. I've learned so much this year. I learned how to speak some Spanish, sing lots of songs, and spell my name and my little brother's name. I can spell so good. I can even count to 50 and say all my ABCs. I just turned 5 and I wanted to let you know what I wanted for Christmas because I've been the best boy I could be.
I would like a racecar set, Rudolph toy, bubble gum, and some Thomas Toys.
Thank you so much, Santa for reading my letter. I will leave you some cookies and milk and the reindeer some carrots.
Jacob, Spokane Valley
P.S. My family says they've been very good, too.
Dear Santa,
My name is Preston Elliot Newcomb. I've moved since last year and wanted you to have my new address in Spokane Valley. I am 2 and a half years old. I've been a good boy for most of the year. I have an older brother named Jacob and he teaches me a lot of stuff. I learned how to count to five in Spanish and 10 in English this year.
I can tell my twin sissies apart and get my own chocolate out of the cupboard to make my chocolate milk. I'm always on the move and constantly learning new things. I love to copy my brother. I'm so looking forward to seeing you this year. I can't wait. I know you're really busy, but I wanted to let you know what I would like for Christmas this year.
I would like some cars, candy, I would like Scoop from Bob the Builder and a Bob figurine. Thank you very much for coming every year. I love you very much and so do my sissies and Grandma!
Preston, Spokane Valley
Local journalism is essential.
Give directly to The Spokesman-Review's Northwest Passages community forums series -- which helps to offset the costs of several reporter and editor positions at the newspaper -- by using the easy options below. Gifts processed in this system are not tax deductible, but are predominately used to help meet the local financial requirements needed to receive national matching-grant funds.
Subscribe now to get breaking news alerts in your email inbox
Get breaking news delivered to your inbox as it happens.
---