News > Nation/World
Prayers, singing rise above ruin
Mon., Dec. 26, 2005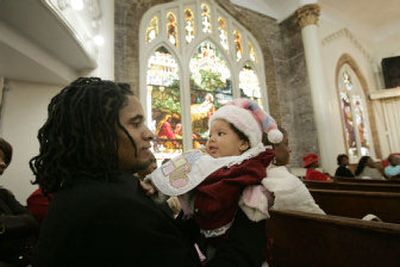 NEW ORLEANS – The congregation of First Emmanuel Baptist Church drove from Baton Rouge, Houston and other points far and wide on Christmas, then walked past collapsed buildings and piles of storm wreckage to worship in their old church for the first time since Hurricane Katrina.
"This means everything. We've come home," said Lila Southall, the minister's wife. "My house is gone but I'm still home for Christmas."
The 118-year-old church had lost much of its roof, part of the ceiling still hung precariously and the soggy carpet had not yet been replaced. But the magnificent stained-glass windows survived unscathed, and so did most of the 1,200 members.
Only a handful of people swayed in the pews to the music on Christmas morning, calling out "Amen" to the pastor's words, but that number will grow, Southall said. The church in the Uptown section, several miles west of the French Quarter, will run a bus from Baton Rouge each Sunday to bring members back for the 7:30 a.m. service.
Christmas was a lonely time in much of New Orleans. Miles of houses stood deserted. Toppled signs, flooded cars, boats that rescued people trapped by flooding were scattered along streets, in yards and parking lots.
East of the French Quarter in the Lower Ninth Ward, block after block of homes sat destroyed and empty. In St. Bernard Parish, where water had covered almost every building, Charlie and Andrea Licciardi watched daughters Alixandria, 5, and Abigale, 4, open presents inside the tiny FEMA trailer they've called home for three days.
The girls excitedly pointed out the skylight that Santa used to bring gifts into the trailer, but seemed unaware of the wrecked houses that he had to fly over to find them.
"They really haven't noticed all of that," Andrea Licciardi said. "We haven't slept in a house since the hurricane and haven't had a real bath, the kind you can sink into and relax. But we're a step closer."
Cheryl and Melvin Anderson and their son and three grandchildren celebrated Christmas in a mobile home, one of a little group of trailers occupied by cemetery employees and their families on the grounds of the Metairie Cemetery.
After floating out of her house on a door when the water hit 9 feet, Cheryl Anderson, 46, spent two days on an overpass, then took shelter at the Superdome before being evacuated to Birmingham, Ala. Her family was scattered across four states and it took her months to find them.
"This is a very, very special Christmas," she said. "If you'd seen the things I seen, you wouldn't think we'd be here today – all the water, all the bodies, people dying all around me."
Local journalism is essential.
Give directly to The Spokesman-Review's Northwest Passages community forums series -- which helps to offset the costs of several reporter and editor positions at the newspaper -- by using the easy options below. Gifts processed in this system are not tax deductible, but are predominately used to help meet the local financial requirements needed to receive national matching-grant funds.
Subscribe now to get breaking news alerts in your email inbox
Get breaking news delivered to your inbox as it happens.
---