Sports
Positively successful
Tue., Dec. 27, 2005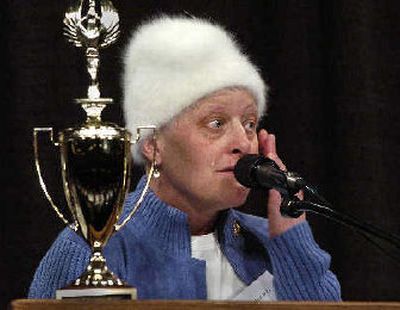 The tournament was over, the trophy won. The cheering had stopped, the hysteria had finally died down. There was just one more picture to take.
A picture Sue Doering would have struggled to find the strength to pose for only a year before. But a picture that epitomizes the essence of the Colfax High volleyball program she has built over the past 17 years.
So she climbed into the Yakima SunDome stands, lugging another 1A State championship trophy, and had her photo taken with three girls from the same family, only one still in high school: Michelle, Lizzie and Lauren Mellor.
All three have had a hand in helping the Bulldogs win state titles. And all are part of a tradition Doering has built in the Palouse River valley, a tradition based on family.
The Mellors. The Bruyas. The Teades. The Doerings.
Multiple girls, multiple titles.
Multiple friends.
The friends that pulled Sue Doering through the battle she's still waging.
When we last saw Doering in Spokane, she was making the crowd at the Spokane Regional Sports Commission's Sports Award Luncheon tear up.
It was February, and Doering was accepting her award as the 2004 Junior Coach of the Year. She wore a fur cap to cover her hairless head.
She was still in the middle of her chemotherapy sessions, battling breast cancer that had spread to a couple lymph nodes.
Yet she was able to make a Lou Gehrig speech.
"I have so many things to be thankful for," she told the Ag-Trade Center crowd dominated by high school athletes who usually try to give off an air of cool detachment.
Then she described the year and how her team had carried her, not the other way around.
"I've never coached a girls team that didn't have problems. This one did not have one throughout the year. I had all the problems. They took it home and won a state title for me."
The crowd gave her a standing ovation.
Since that day, when Doering was honored for winning the 2004 State 1A volleyball title, she has completed her chemotherapy and radiation treatments. Her hair has returned, though its "come back all curly." She's made another trip to Europe.
And she and her Bulldogs won an additional state title, her sixth at Colfax and the school's seventh.
But still the battle goes on.
"I'm just doing three months checkups, so I see my oncologist every three months," Doering said of her current treatment. "I see my surgeon every six months.
"But I feel great."
"""
Doering won her first State 1A volleyball title in 1988, her first year after leaving Deer Park. Another title came in 1995. Since then the state finishes have been remarkable: second, fourth, third, second, first, first, fourth, second, first, first.
That's four titles in the past six years. The latest one came via a stirring comeback from two games down in the title match against La Conner, with junior Lauren Mellor and a handful of athletic sophomores, including daughter Kinsey, playing major roles.
Why so successful, especially lately?
"I've figured out ways to teach my kids faster, to play at a higher level quickly," said Doering who teaches physical education at the junior high. "I have my junior high program; I've figured out ways to get them learning things quicker.
"The thing most coaches do is sell their kids short. Pam Parks told me your kids will learn whatever you teach them. If you want to teach them tough things, they'll learn it. You just have to be patient a little bit but they'll learn it."
When going through the toughest parts of the battle with cancer, Doering thought a lot about the lessons she learned from former volleyball coach Parks, now the interim athletic director at Eastern Washington University.
"Parks is an incredible coach in how you take control of your thought process," Doering said. "If you are struggling to get one more in, you just think get one more in, focus on that one thing. During chemo, that's what I did."
Doering laughed as she made the last statement, before continuing. "Different things, but the aim is the same: setting your goals, pursuing those."
"""
The Bulldogs reached the ultimate goal once again this year, though Doering found the season more physically draining than the previous one, even though she wasn't going through the strength-sapping chemo treatments.
"This year, it was just back to normal," she said. "Last year my seniors were just really good leaders, and did a lot of stuff, handling the routine, I guess, and just following through with that.
"This year, it was just back to normal and back to coaching and back to just making sure they do what they are supposed to do."
When you've won as much as Colfax, you're supposed to win the title, right? Not in Doering's view.
"I think kids, like all of us, if you're not aiming at anything, you're going to get what you aim at, which is nothing," she said. "But if you're aiming at something, you have a target. My kids come in thinking, 'We're going to be a top four.' They don't always think championship, though we talk about it. But there's not a lot that separates fourth place from a champion."
Or first place from second.
"We're down two games in the championship and I tell my team 'Two is good, two is good. I think you're a better team than that, but two is good,' " she said. "They understood when I told them 'You're going to have beat La Conner, because La Conner isn't going to beat themselves, so you either have to start now or, or two is good."
But one is better. And, like their coach, the Bulldogs responded to adversity.
"That's the excitement of the game," Doering said. "You want to be on the line serving when its game point. Or you want to be set the ball when it's tied, because you want to be the one making the kill, that's the thrill of it all. If you don't do it, you don't do it. If you do it, it's incredible."
Local journalism is essential.
Give directly to The Spokesman-Review's Northwest Passages community forums series -- which helps to offset the costs of several reporter and editor positions at the newspaper -- by using the easy options below. Gifts processed in this system are not tax deductible, but are predominately used to help meet the local financial requirements needed to receive national matching-grant funds.
Subscribe to the sports newsletter
Get the day's top sports headlines and breaking news delivered to your inbox by subscribing here.
---