Restaurateur Ed Shaw gave generously to city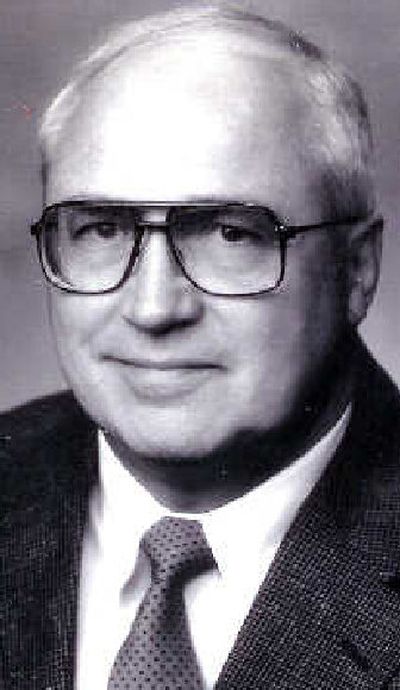 Ed Shaw was a generous host, and all of Spokane was his guest.
In his community, he donated time and money to many causes.
With his family, friends and two poodles, his kindness was boundless.
And at his restaurant, The Shack, compassion came in a bottomless cup.
On Nov. 30, Edwin E. Shaw died of a heart attack at 66.
As a Rogers High School student, Ed loved football and didn't let his small size stop him.
"When he was a sophomore, his coaches tried to talk him into quitting because he was so small," said his brother, Denny Shaw.
Ed continued to play, got bigger and eventually won All-City and All-State awards in football.
"Then he played in the East-West State All-Star game and got a four-year scholarship to Washington State College," Denny said.
Ed's first year playing varsity football for the Cougars was in 1958. "That's when he played with Don Ellingsen, Jack Fanning and Phil Mast, who were all Rogers High football players," Denny said.
"That was a good year for the Cougars; they almost went to the Rose Bowl.
"They were invited to the Sugar Bowl by the number one team in the nation that year, Louisiana State University, but they declined," Denny said.
"He was really into football," his brother said. "He wasn't that big, but he hit hard, and he enjoyed the game."
Ed graduated from Washington State in 1962 with a bachelor's degree in hotel and restaurant management.
After a brief stint in the Coast Guard, Ed came back to Spokane to work at The Shack, a downtown Spokane restaurant owned by his aunt and uncle. After the death of his uncle "Stub," he became co-owner with his aunt Elsie until she died.
"Of course, we all worked there. All of our relatives, my kids, a lot of other people's kids," Denny said. "It was in the family for 50 years, from 1953 until he sold it in 2003."
Dick Page worked at The Shack as a manager for more than 46 years. Whenever Ed heard about an employee who couldn't pay a bill, he found a way to help, Page said.
"He was a fantastic man," Dick said.
Health reasons caused Ed to sell The Shack.
Ed stayed active after retirement.
"We tried a lot of things together," said his friend, Helen Bell. Last January, Ed and Helen spent about $300 each for cross-country skis, which they took to Farragut State Park.
Unfortunately the snow melted, so they had only one chance to ski.
Their trips also included walking his dogs along Lake Coeur d'Alene, going to the movies and taking rides to photograph flowers and wildlife.
"He was a great friend and a great person," Bell said. During the last few months of his life, Ed reminded her that even though it was not in his will, he wanted her to take care of "his girls" if anything happened to him.
"His girls" were Kissy and Samantha, his beloved poodles. Ed, a lifelong bachelor, took them everywhere, as if they were his children.
Although Ed usually didn't send out Christmas cards, this year he did. On the outside was a picture of two angel statues, on the inside a picture of "his girls." Ed had taken both pictures.
Ed enjoyed gardening, computers, fishing and travel. He also wrote more than 200 computer programs that helped "cut our accounting bill to nearly zero," Page said.
"Whenever Ed wanted to learn how to do something, he never stopped until he learned everything there was to know about it."
Movies also kept Ed entertained. Page estimates Ed had seen every movie made in the past 30 years, often with his close friend Donna Aberasturi.
"Can you guess where he sat when he went to the movies?" Page said. "Right up front, as close as he could get."
Ed's nephew, Edwin M. Shaw, said Ed traveled extensively through Europe, China, and Morocco.
Bu he still found time to help his own community, supporting the Lilac Festival Association, the Vanessa Behan Crisis Nursery, State B Basketball and local high school sports teams. Ed also was president of the John R. Rogers High School Alumni Association.
"Ed was one of only two people (Aberasturi was the other) inducted into the Walk of Fame without filling out a candidate profile," Rogers Walk of Fame coordinator Sharon Travis wrote in an e-mail.
"He was so modest about all of the wonderful things that he had done that he just wouldn't 'pat himself on the back' so the alumni group that selects the Walk of Fame inductees decided to go ahead and select him anyway."
One weekend a year in December, Ed turned The Shack over to the Vanessa Behan Crisis Nursery for its fund-raising efforts. According to Page, Ed thought the crisis nursery was a fantastic organization.
Page estimated Ed contributed around $100,000 over the years to the nursery.
His brother said he and Ed were so close that he named his son after him.
"Ed was the type of guy who would really help people out," Denny said. "And he was a die-hard Cougar fan."
Ed's eulogy, written by his nephew, Dr. Bryan Shaw, mentioned that the only exception to Ed's compassion for people was University of Washington Husky fans.
"He didn't have much use for Huskies," Denny said.
---