News > Spokane
One raptor's rapture
Fri., Dec. 30, 2005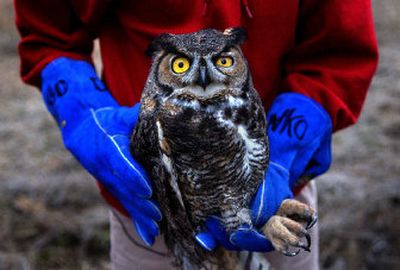 For a bird with a broken wing that fell out of a tree, Conant is one lucky owl.
First, the great horned owl had the good fortune to be found and directed to Bret and Tracy Conant, a Medical Lake couple who run a bird rescue operation. Then Conant was taken to Washington State University's veterinary college, where he was fed and nursed back to health over two months.
On Thursday afternoon, as dusk was sneaking into the sky, Conant was released in a field near Medical Lake. The owl beat his wings and sailed over a field studded with mouse tunnels, settling in the bare upper branches of a tree.
"Releasing them is the best part," said Angela Teal, a veterinary technician at WSU. "We don't get to do it very often."
Great horned owls are plentiful throughout the region, and the WSU raptor rehabilitation program will see 50 or so a year brought in with injuries, said Nickol Finch, the veterinarian in charge of zoological medical services at the school's veterinary teaching hospital. Most of the birds can never be released, either because their injuries are too severe or they become too comfortable around humans – a deadly habit for a wild creature.
The birds are usually injured by "something manmade," Finch said. "Either they were hit by a car, were shot or have an electrical burn" from landing on a power line.
This particular owl was found near an airport runway off Hayford Road, and that's where it was released Thursday, as required by federal wildlife laws. Finch said she wasn't certain of the bird's gender, but it's roughly 2 years old.
She said wildlife workers aren't sure how the bird's wing was broken, but it was seen falling from the tree and didn't fly again. The bird probably broke its wing before the fall, and re-injured it.
The bird was found, and county animal officials called the Conants. Though raptors aren't the Conants' specialty – they focus on parrots and similar birds – they knew they needed to get the bird to the WSU program.
With the broken wing, the owl – named Conant after its rescuers– couldn't feed and survive. At WSU, it enjoyed a diet of one rat a day. In the wild, Conant will probably eat five or six mice a day.
The broken wing had already begun to set, so the bird just needed time to heal. But the veterinary hospital at WSU also repairs broken bones with pins, casts and sometimes surgery.
"We use the same techniques they'd use for a dog, a cat or a person," Finch said.
The owl was tagged, in case it's ever found again, and set free just in time for breeding season.
"Hopefully, he'll go back and find a girlfriend and have other babies," Finch said.
The Conants have been rescuing birds for seven years and are applying for nonprofit status for their operation, Pampered Parrots Avian Rescue. Bret Conant said he and his wife were just a two-bird family until they heard about a parrot that needed a home after being mistreated by its owner.
"When we got him, he was always saying, 'George is a bad bird. George is a really bad bird,'" Bret Conant said.
They renamed the bird Max, and changed his attitude over time.
"Now he says, 'Max is a good boy,'" Conant said. "And if I say, 'Are you a good boy?' he says, 'Yeperdoodles.' "
Local journalism is essential.
Give directly to The Spokesman-Review's Northwest Passages community forums series -- which helps to offset the costs of several reporter and editor positions at the newspaper -- by using the easy options below. Gifts processed in this system are not tax deductible, but are predominately used to help meet the local financial requirements needed to receive national matching-grant funds.
Subscribe now to get breaking news alerts in your email inbox
Get breaking news delivered to your inbox as it happens.
---