News > Spokane
The big six
Sun., Feb. 6, 2005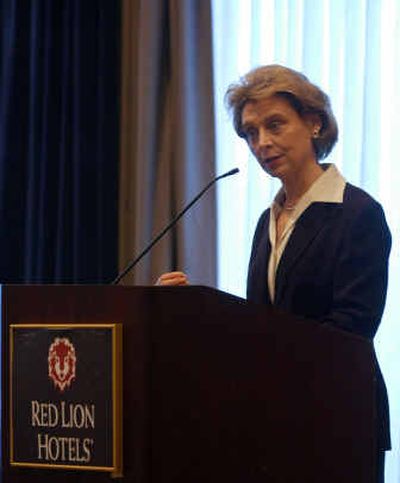 Election reform
In the wake of Washington's closest-ever governor's race, Secretary of State Sam Reed and several lawmakers are proposing a list of changes to the state's election system.
Where things stand: Reed says he has bipartisan support for nine election reform bills. They include an earlier primary election, requiring mail-in ballots to be sent in by Election Day, and standardizing signature-matching rules. Also, another election bill not sponsored by Reed is up for a hearing Tuesday. It would allow voters to choose "none of the above" on a ballot.
Education
Teachers and other school staff hope lawmakers will reinstate Initiatives 728 and 732, which were suspended two years ago to save money. The measures were supposed to steer hundreds of millions of dollars more into teacher salaries and shrinking class sizes.
Where things stand: The jury's still out, despite support for these increases from legislative leaders and Gov. Gregoire. But budget staffers were sweating last week when the Supreme Court issued a surprise ruling throwing out the state's estate tax. Result: $430 million less in state coffers over the next two years.
Liability reforms
Everyone seems to agree that liability insurance costs much more than it used to and that something should be done. Agreement ends there. There are dueling initiatives to the Legislature this year, one favoring doctors' solution – a cap on jury awards for pain and suffering in liability cases – and the other leaning toward lawyers' proposal, which includes better discipline of bad doctors.
Where things stand: A week after the House heard similar bills, the Senate is about to consider its own proposals to improve patient safety.
Business
Business groups want an overhaul of the state's workers' compensation program for injured employees. They say it's too expensive and biased toward employees' versions of what happened. Some industries will also likely seek tax breaks – or try to stave off lawmakers' efforts to toss out old tax breaks.
Where things stand: Gov. Gregoire last week unveiled the first phases of her economic development plan, including a $35 million-a-year fund for grants to encourage life sciences research in Washington. She also wants to double – to $100 million a year – a program to make loans to minority- and women-owned businesses. And Gregoire also wants to double the business and occupation tax credit – to $70 a month – for small startup businesses. Some 25,000 small businesses would be helped, she said.
Health care
Democrats want to expand the state's low-cost insurance program for children. They're also considering proposals to increase Medicaid reimbursements to doctors who treat the poor and to help small businesses afford to offer health insurance to their employees.
Where things stand: Gregoire has said she'll support legislation to raise Medicaid reimbursement rates, a stance that drew cheers at a recent speech she gave to Spokane business groups. But the question, as always, is how to pay for it.
Taxes and fees
New taxes are critical to avoid lasting damage to the state's schools, colleges and social services, lame-duck Gov. Gary Locke said as he was preparing to leave Olympia. No way, say Republicans, who maintain that virtually any new taxes would hurt the economy.
Where things stand: Despite last week's bad budget news, Gregoire said she still wants to see what a no-new-taxes budget would look like before considering new taxes. Yet lawmakers have already proposed raising taxes on soda, beer, wine, liquor and cosmetic surgery. Also, a House committee Wednesday will discuss how the state's tax system can make Washington business more competitive.
Local journalism is essential.
Give directly to The Spokesman-Review's Northwest Passages community forums series -- which helps to offset the costs of several reporter and editor positions at the newspaper -- by using the easy options below. Gifts processed in this system are not tax deductible, but are predominately used to help meet the local financial requirements needed to receive national matching-grant funds.
Subscribe now to get breaking news alerts in your email inbox
Get breaking news delivered to your inbox as it happens.
---