News > Nation/World
Sub commander relieved
Sun., Feb. 13, 2005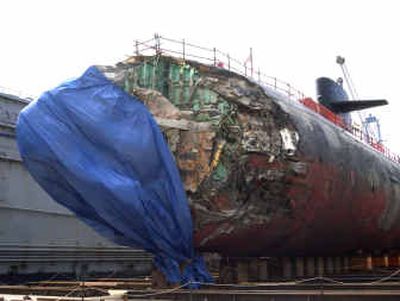 The commanding officer whose submarine ran into an uncharted underwater mountain south of Guam on Jan. 8 has been formally relieved of his command and issued a career-damaging letter of reprimand at an administrative hearing in Yokosuka, Japan.
Cmdr. Kevin Mooney learned his fate Saturday at a nonjudicial "admiral's mast" hearing before 7th Fleet commander Vice Adm. Jonathan W. Greenert, said fleet spokesman Cmdr. Ike Skelton.
Mooney had already been temporarily removed from command of the nuclear submarine San Francisco pending a formal review of the crash, which left one sailor dead and 23 injured.
The Navy has not released details of its command investigation into the incident. The incident took place as the San Francisco was making a submerged transit from Guam to Brisbane, Australia. Just after midnight Jan. 8, the 362-foot sub and its 137-man crew were moving to the east at flank speed – nearly 35 miles per hour – when the sub struck what experts believe was an uncharted mountain topped by a large coral reef about 350 miles southeast of Guam.
In a message made public by the Navy, Rear Adm. Paul Sullivan, commander of the Pacific Fleet Submarine Force, described the area the sub had been moving through as a submerged moving haven, an underwater passageway thought to be free and clear of obstacles.
The collision heavily damaged the attack submarine's bow, tearing away much of the black outer hull and leaving a gnarled mass of crushed metal. Three main ballast tanks and the sonar dome were partially flooded.
Skelton said Greenert concluded that "several critical navigational and voyage planning procedures were not being implemented aboard San Francisco. By not ensuring these standard procedures were followed, Mooney hazarded his vessel."
Mooney was temporarily relieved Jan. 20 by Cmdr. Andrew Hale, a move that Skelton said is now permanent.
The crew will remain in limbo on Guam until officials decide the submarine's fate.
Local journalism is essential.
Give directly to The Spokesman-Review's Northwest Passages community forums series -- which helps to offset the costs of several reporter and editor positions at the newspaper -- by using the easy options below. Gifts processed in this system are not tax deductible, but are predominately used to help meet the local financial requirements needed to receive national matching-grant funds.
Subscribe to the Coronavirus newsletter
Get the day's latest Coronavirus news delivered to your inbox by subscribing to our newsletter.
---