News > Business
Controversy uncorked
Tue., Feb. 15, 2005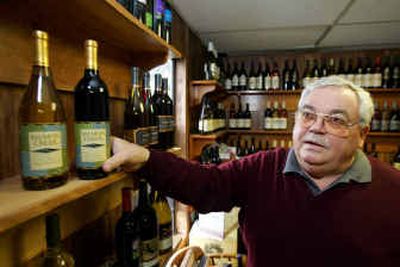 CERES, Calif. — First came Two Buck Chuck, the $1.99 best seller that gave wine drinkers a thrifty thrill. Now, vintner Fred Franzia is campaigning to get restaurants to sell his Salmon Creek wine at around $10 a bottle.
Restaurants haven't been in a rush to take the plunge, especially at the haughtier end of haute cuisine, although the wine's low price still leaves room for a markup of about three times wholesale. Still, Franzia expects to win the sommelier showdown.
The problem is that restaurants are used to such high prices that "they act like it's a right of birth or something," he said. "We're fighting that trend."
Franzia has been fighting trends, or setting them, for years now as the maverick of the California wine world.
You know you're not dealing with the typical Napa wine baron the moment you walk into Franzia's office at the Bronco Wine Co. he co-founded in Central California. No soaring Tuscan villa or fanciful French chateau here; it's a brown-paneled trailer.
Franzia prefers to put his money elsewhere, like his thousands of acres of vineyards and the huge, modern plant where brands such as Forest Glen and Napa Ridge are produced as well as the popular Charles Shaw wines, aka Two Buck Chuck. (There's no cute nickname for Salmon Creek yet — maybe Sawbuck Salmon?)
The Charles Shaw phenomenon started in early 2002, when Bronco decided to try selling a $1.99 wine. Industry convention held that customers would be leery of a wine priced that low, but Franzia says "we never doubted the quality of our wines." Sold only at the Trader Joe's grocery chain, it developed into a huge hit.
It takes a calculator to tell the Two Buck story; Franzia punched away at his for a few minutes before proudly estimating that "every hour we put out 10,000 bottles round-the-clock. Cling, cling, cling, cling. I like that."
Some critics have theorized that Franzia can only sell so cheaply because the industry's grape glut has depressed his costs. Franzia said his real secret is eliminating margin — he owns everything from vineyard plantings to bottling plants.
In 2003, Bronco's revenues totaled nearly $300 million, with Two Buck Chuck accounting for about half the 10 million cases sold. Salmon Creek is on course to sell 250,000 cases this year, about double last year's totals, and Franzia figures others will soon fill the $10 a bottle restaurant niche. "Pretty soon it'll catch a head of steam, it'll take off and then everyone will be doing it."
Franzia's family has been in the wine business for more than a century. The original company was sold in 1973, and Franzia, his brother and their cousin started Bronco the following year.
Decades later, Franzia is 61 and still a fixture at the company's headquarters, coming in seven days a week.
"Most places you work the boss comes in after everybody's there and he leaves before they go home. Here, he's competing with the sun," said Ed Moody, director of winemaking for Bronco.
There have been some battles over the years. Bronco and Franzia were fined more than a decade ago after pleading no-contest to charges of mislabeling some grapes as a more expensive variety. More recently, he's fought in court with Napa vintners, who say it's illegal for Bronco to sell wines such as Napa Ridge, that have Napa on the label but are made with grapes grown elsewhere.
Local journalism is essential.
Give directly to The Spokesman-Review's Northwest Passages community forums series -- which helps to offset the costs of several reporter and editor positions at the newspaper -- by using the easy options below. Gifts processed in this system are not tax deductible, but are predominately used to help meet the local financial requirements needed to receive national matching-grant funds.
Subscribe now to get breaking news alerts in your email inbox
Get breaking news delivered to your inbox as it happens.
---