News > Voices
More than words
Thu., Feb. 17, 2005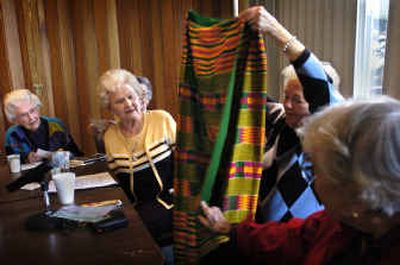 News about this year's presidential inauguration parade had Jo Chadwick reflecting on the power of crowds. She described her feeling in a piece she prepared for the Rockwood Manor's senior writing group. It was another time, another event in Washington, D.C. It was November 1963. She and her husband were living in the capital.
Chadwick saw a heavily veiled Jacqueline Kennedy standing near the flag-draped coffin of her husband, President John F. Kennedy. The Marine band played "Hail to the Chief" as the coffin came into view. It would be the last time the song would be played for Kennedy, and Chadwick made sure that she was there in person to hear it. It was important for her to share her grief with the crowd that had gathered. She felt the need to be with like-minded people and to share that experience.
A group of two men and 11 women listened quietly as Chadwick, 82, read from this chapter of her life. The writing group gathers every Tuesday in the social room at Rockwood Manor to share their memoirs, essays, observations and poems.
After Chadwick read, the microphone was passed to the woman next to her. Mary Kent Norton read a piece titled "Into Thin Air." She wrote about how she and her husband traveled to climb to the base camp of Mount Everest. It was 1986, and she was in her 60s at the time. She told her tale of the land of the lost horizon.
"Nothing could prepare you for the loneliness and the unity," she wrote. Norton, who read her story while breathing through oxygen, compared the shortness of breath she now experiences to what she experienced during that climbing expedition.
When it was his turn, Howard Imus had the group in stitches with his humorous story of fishing with his 63-year-old son. He accidentally broke his son's $650 fly rod when he sat on it, but he offered to replace it. After all, it didn't really matter; it would be coming out of his son's inheritance anyway.
They continued, one after another, reading stories of their youth, their family histories, their thoughts on current affairs.
Chadwick started the writing group in March 2003 after taking a creative writing class from Virginia White. "It began with a bang, and we haven't missed one week," said Chadwick. There are usually a dozen or so regulars who participate, mostly women in their 80s and 90s.
Chadwick modeled the Rockwood seniors writing group after White's class with one exception.
"We decided from the beginning that our aim was not publication. There are people in Virginia's writing group who are hoping someday to publish, and they want constructive criticism. Our group is not interested in publication. We never say anything negative about anybody's writing. We are doing this for our own growth. We have had offers for teachers to come in and help teach writing. We said 'no thanks.' We have very few rules. We feel that people our age have seen enough of life that they want to do what they want to do. We're freeing people up, anything is acceptable," said Chadwick.
Chadwick said that the readings are like a trip around the world. They hear stories about ranches in Wyoming, wild places in British Columbia, the Gold Coast, primitive areas. Some write from diary notes. "We want to keep it authentic, with the members writing in their own style," said Chadwick.
Chadwick said that by sharing their writings, they have become very close and developed a great deal of trust and respect for one another.
"It is very healthy for people to have an audience. People who have been left without a spouse have no one as a witness to their life. And this fulfills a deep psychological need for someone who will listen to what they have to say. And we provide a willing, sympathetic group of listeners every week," said Chadwick.
Chadwick said that the writing group has brought her much happiness. After her husband's death, she felt like half of her was missing. "I had always been part of a team. I was married for 55 and a half years – since I was 20. I had to build another half. I had always known that I was a good communicator and many of my friends said that I should write, but I was always too busy doing other things. It wasn't until I started writing that I found I'm a whole person. I have built another half," said Chadwick.
Chadwick said that writing gives people time to reflect upon their life, to see what it all meant and to put it together so it makes sense. This time for reflection is something that most people do not have until they are old. "It's a busy world. This is a wonderful, marvelous opportunity. Whether you write well or poorly, it doesn't matter. It's the doing of it that is important," said Chadwick.
Local journalism is essential.
Give directly to The Spokesman-Review's Northwest Passages community forums series -- which helps to offset the costs of several reporter and editor positions at the newspaper -- by using the easy options below. Gifts processed in this system are not tax deductible, but are predominately used to help meet the local financial requirements needed to receive national matching-grant funds.
Subscribe now to get breaking news alerts in your email inbox
Get breaking news delivered to your inbox as it happens.
---