News > Voices
Unconditional love comes with adopted dog
Thu., Feb. 17, 2005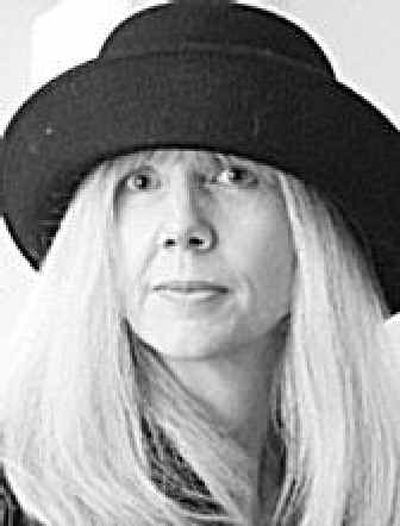 Every Thursday, the Voice Creature Feature spotlights healthy dogs ready for adoption. They stare from the paper with adorable looks, whiskers jutting from muzzles, tongues hanging, tails wagging.
The shelters are overflowing with furry residents. Despite valiant efforts, Spokane's unwanted pet community has swelled with the boon of new births and recent rescues.
With a smidgeon of knowledge and a heap of commitment on the part of a person or family, new homes for these wonderful animals can be found. Although I'm no expert in dog psychology, behavior or obedience, my experience can be put to good use for those contemplating adoption.
In 1990 I adopted a greyhound, and my life changed. Not only was Chip the best-ever dog, his good nature prompted me to volunteer for the local greyhound group. Over time I acquired several adoptees and became an adoption representative, learning plenty of doggy character traits along the way.
First, make them a part of the family. Canines are social animals and have a variety of personalities just like people.
Family unity and the need for a chain of command are important in their world.
Don't squeeze a dog's inherent behavior peg into the square hole of human behavior. Do mesh both worlds.
Pretty simple. But how do you do this?
The right fit. Is your lifestyle sedate or active? Older dogs or quiet breeds fit better with homebodies. Active people will enjoy energetic breeds.
Read about the inherent traits in the dominant breed of the dog you're considering.
G'day mate! When you approach, is the dog's face happy, tail wagging and ears up? These friendly types are eager to please and will do well with children. Timid dogs do better in calm households.
To run or not to run? Check the dog run for destruction, e.g., shredded rug, chewed wood. Take this into consideration, but remember, a dog's personality is key to successful adoption, while behavior can be modified through obedience class and exercise.
Human littermates. The littermate mistake frequently occurs when a dog is eye-to-eye with a child. Dog thinks, "Hey, he/she is my littermate!"
So, when child takes ball, dog thinks, "That's mine! Grrrrrr…"
Be vigilant. Teach your children the dog world while teaching your dog the human world.
Remember that pulling ears, grabbing tails, poking eyes hurts. Teach respect for all family members.
I'm not old. I'm dignified. Older dogs make wonderful adoptions. They know their manners, and their destructive days are over.
Their idea of a good time is sleeping by your feet, in your lap or lazing in the afternoon sun.
Two's company. If you already have a dog, remember dogs are pack animals and like company. The adoption will be more successful if you adopt the opposite gender and same personality traits.
Supervise the introductions and enforce the rules and regulations.
So, you've decided to adopt! Congratulations! Here are a few hints to help with the transition.
In case I haven't said this before, make them a part of the family.
Commit to working through the problems. One accident does not a rotten dog make. Invest in a dog training class and realize it will take time to adjust.
Acclimating. A few days at home with the new resident establishes a bond.
Dogs will be dogs. Use baby gates and dog crates to ease the transition and curtail the potential for destruction that may occur with separation anxiety. Dogs are creatures of habit; establish a routine and stick with it.
Talk to them. Crazy? Not really. They know.
They're good listeners and love the sound of your voice. (Now, that's crazy!)
Chow Time. Nutritious dog food and treats are essential for a healthy dog. The extra money is well worth it come vet time.
And in case I haven't mentioned it, the top time-honored, never-fail training technique is: Make the dog a part of the family. Pack animals do better in a pack – duh.
All this work and what do I get? A valid question, but like anything, you get out of it what you put into it. Unconditional love is part and parcel of the canine world.
Dogs don't care how you look or smell or how long you've been gone. The happy dance is always performed when you walk in the door.
On the philosophical side, animals bring to us a sliver of an ancient world. We learn unconditional love in the look of a patient eye, in their comforting presence when our world turns chaotic.
We learn patience and understanding through their odd quirks and funny antics.
Spokane's unwanted pet explosion rests squarely on our shoulders. Open your home and your heart to a new pet.
Local journalism is essential.
Give directly to The Spokesman-Review's Northwest Passages community forums series -- which helps to offset the costs of several reporter and editor positions at the newspaper -- by using the easy options below. Gifts processed in this system are not tax deductible, but are predominately used to help meet the local financial requirements needed to receive national matching-grant funds.
Subscribe now to get breaking news alerts in your email inbox
Get breaking news delivered to your inbox as it happens.
---