News > Spokane
COPS West being restored after fire
Sat., Feb. 19, 2005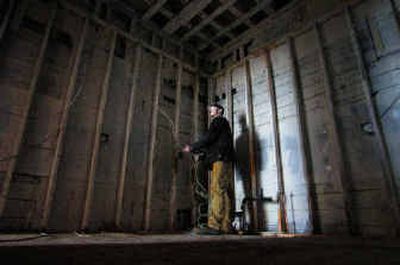 Restoration work is under way at the COPS West substation in Spokane's West Central neighborhood, with plans to reopen in April.
The building at 1901 W. Boone was damaged in a suspicious fire the morning of Dec. 27. The fire appeared to start outside in a plastic trash can near the back of the building.
The smell of smoke still lingers throughout the building, with many walls stripped down to the bare framework. The floors have been replaced and the building is being rewired.
Most of the damage was to the roof and the back offices, where two Department of Corrections parole officers met with and monitored about 100 parolees living in the area.
A house at 2030 W. Spofford, donated by the West Central Community Center, is serving as a temporary substation.
COPS West president Vernita Fowler said there isn't as much action at the temporary site; calls have slowed down and there are fewer walk-ins. She said this is because the DOC officers are working from their offices on Broadway during the reconstruction.
"They say that once the work is done the old building is going to be better than it was before. After 13 years, the building needed to be remodeled, but surely not this way," said Fowler.
Suspects hide in truck under stolen property
Two burglary suspects thought they had foiled Spokane Police Thursday by hiding under a mound of stolen property in the back of an older Ford pickup which was towed to a secure garage.
Sgt. Gary Warren spotted the truck Thursday near where several burglaries had been reported. He watched it for a time before having it towed to the garage. The truck appeared to be filled with stolen property, police spokesman Dick Cottam said in a press release.
But Warren had to wait for a search warrant to look through the truck and planned to leave it in the garage overnight, Cottam said. Warren didn't know that the two suspects remained in the back of the truck, which had a canopy covering the truck bed.
After they were left alone, the two suspects burrowed out from under the stolen property and tried to escape. But they tripped the garage's motion-detector alarms and officers responded, Cottam said. They found the suspects hiding inside a boat and arrested them, Cottam said.
They were identified as 32-year-old Jeremy D. Hill and 21-year-old Eileen Anne Smith. Both were booked into jail on burglary and attempted burglary charges, Cottam said.
District Court judicial slot may be filled Tuesday
Spokane County commissioners may appoint a new District Court judge at their weekly meeting Tuesday.
The appointee would fill the position of Harold Clarke III, who was elected last fall to a Superior Court judgeship. County commissioners created a special committee of judges and lawyers to review 13 candidates for the vacancy.
Earlier this month, the committee recommended five of the applicants for further consideration. On the list are current District Court Commissioners Randy Brandt, Virginia Rockwood and Robert Seines, and attorneys Michael Nelson and David Stevens.
Commissioners remain free to choose from the original list of 13 attorneys. Others on the list are: Daniel Davis, Howard Delaney, Harvey Dunham, Keith Glanzer, Debra Hayes, Richard Leland, Aaron Lowe and Gail Schwartz.
Gregoire says highway safety improving
Olympia Traffic fatalities in Washington state dropped below 600 deaths in 2004, the first time that's happened since 1961, Gov. Christine Gregoire says.
The number of traffic-related deaths dropped 15 percent, from 658 in 2002 to 558 in 2004, according to a news release from the governor's office. The improved safety is the result of tougher laws, reinforced safety education and enforcement, and improved roadways. There were 600 deaths in 2003.
Deaths involving drunken drivers have also been decreasing since the state passed a series of anti-drunken driving laws in 1998.
In the four years before the law, an average of 301 people died each year in drunken driving accidents. That average dropped to 243 in the four years after the law was enacted.
"This is great news for the people of Washington state," Gregoire said Thursday. "The reductions in traffic deaths result when our state agencies work directly with people to address the problem."
Commissioners fined for using acronyms
Port Orchard, Wash. Acronyms are DOA at Kitsap County commissioners' meetings. Any commissioner or department head caught using an acronym at a meeting is fined a dollar.
The idea is to make sure the average citizen understands what everyone is talking about, Commissioner Chris Endresen said.
Fines on officials who resorted to the alphabet shorthand last month raised $100, which was donated to victims of December's tsunami in south Asia.
Local journalism is essential.
Give directly to The Spokesman-Review's Northwest Passages community forums series -- which helps to offset the costs of several reporter and editor positions at the newspaper -- by using the easy options below. Gifts processed in this system are not tax deductible, but are predominately used to help meet the local financial requirements needed to receive national matching-grant funds.
Subscribe now to get breaking news alerts in your email inbox
Get breaking news delivered to your inbox as it happens.
---