Sports
East, Shaq steal show
Mon., Feb. 21, 2005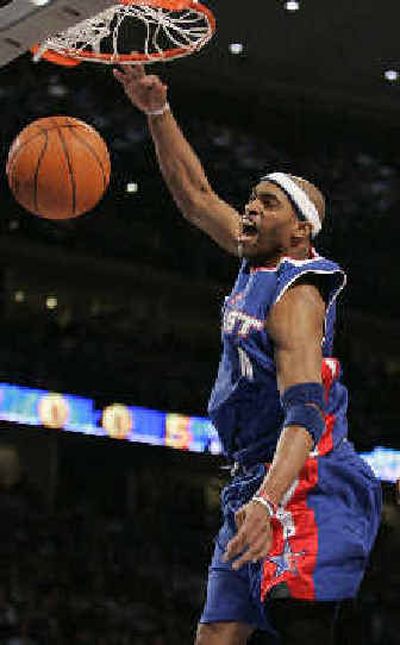 DENVER – The Shaq Shoe Phone was not the most outrageous thing displayed at the NBA All-Star game.
That distinction belonged to The Big Entertainer himself.
Primping, preening, playful and preposterous, O'Neal gave the league's showcase event a supersized dose of personality – though he wouldn't go so far as to do it while wearing that size-22 phone.
For the second straight year, O'Neal made people laugh, applaud and appreciate his oversized way of doing everything, infusing Sunday night's otherwise nondescript All-Star game with just the right amount of precociousness.
He danced as he was introduced, struck a pose before missing a foul shot and goofed with the rap stars and hip-hop artists who lined the front-row seats across from the Eastern Conference bench.
All that showmanship didn't win O'Neal MVP honors – that award went to Allen Iverson, who had 15 points, nine assists and five steals as the East beat the West 125-115. But if MVP stood for Most Vibrant Personality, this one was a runaway decided squarely in favor of the 360-pound, 7-foot behemoth who was making his 12th appearance in the league's showcase event.
"When I was young I was on punishment a lot and I used to watch a lot of TV, and I asked myself a question: "How come people like Mike? How come they like Magic? How come they like Bird? How come they don't like the big guys?" O'Neal said, referring to former stars Michael Jordan, Magic Johnson and Larry Bird.
"So I just throw a little bit of what they were doing. You smile, you act crazy and silly. And I think people like me because I'm different. I've always been a class clown type of guy. It comes natural."
O'Neal finished with 12 points, six rebounds, three blocked shots and three steals.
His showmanship displays came after he unveiled his size-22 red and white shoe phone in the locker room before the game. An actual working telephone mechanism is built into the sneaker, and an antenna pops out near the toes.
"It's big, you can take it anywhere, make people look at you," O'Neal said.
The silliness O'Neal displayed and the reception he received were in stark contrast to the way things went for his former teammate, Kobe Bryant.
Bryant finished with better numbers and was the most intense player on the court during the fourth quarter, but this show was clearly not his.
Bryant, who was accused of rape in Colorado two summers ago before the charges were dropped last September, was the only player booed during pre-game introductions.
By far the best dunk of the first half came when Carter drove the middle and tossed the ball hard off the backboard before catching and jamming it with two hands.
Dwyane Wade had a breakaway reverse dunk early in the final period to put the East ahead 102-93. After Bryant hit a pair of 3-pointers to close the West to 110-105, Shaq bounded off the bench and returned. The West never pulled closer, and the game ended with O'Neal getting to attempt a 3-pointer.
It missed, but it didn't matter. The showman had gotten the last moment in the spotlight.
Seattle SuperSonics guard Ray Allen led all scorers with 17 points. Sonics forward Rashard Lewis, making his first All-Star game appearance, scored two points.
Local journalism is essential.
Give directly to The Spokesman-Review's Northwest Passages community forums series -- which helps to offset the costs of several reporter and editor positions at the newspaper -- by using the easy options below. Gifts processed in this system are not tax deductible, but are predominately used to help meet the local financial requirements needed to receive national matching-grant funds.
Subscribe to the sports newsletter
Get the day's top sports headlines and breaking news delivered to your inbox by subscribing here.
---