Sports
Junior misses Daytona double
Mon., Feb. 21, 2005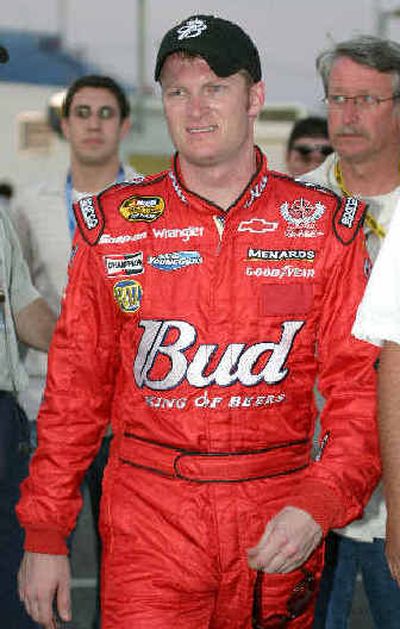 DAYTONA BEACH, Fla. – Dale Earnhardt Jr. spent most of the day wrestling an ill-handling car, more concerned with keeping it off the wall than trying to win a second straight Daytona 500.
Even so, his rivals kept glancing nervously in their rearview mirrors, figuring Junior would show up sooner or later.
They were right.
Coming from as far back as 30th, Earnhardt sent the massive crowd into a frenzy when he surged to the lead late in Sunday's race.
At the end, he couldn't hold off Jeff Gordon, who stormed past the No. 8 car and held on for his third Daytona 500 victory. Earnhardt settled for third – a couple of car lengths short of a Daytona Double, but OK with the outcome.
"I'm not too disappointed," he said, having missed a chance to become the fourth back-to-back 500 winner. "I know I can't win them all."
That Earnhardt even had a chance to win was a testament to the dogged perseverance he inherited from his father, a seven-time NASCAR Cup champion who died at this track in 2001.
"We struggled all day with the car," Junior said. "We tried to get it to handle, but it wouldn't turn. We were terrible."
But Earnhardt remained patient and his new crew kept working on the No. 8 car, finally working out the problems with some minor tweaking to the chassis set-up and a new set of tires.
"They did exactly what I needed," he said. "I had one of the best cars out there at the end of the race."
Suddenly, Earnhardt was a force to be reckoned with, roaring past all those cars in front of him. Up ahead, Gordon wondered where Junior had been all day.
"When the cautions came out, I would look in my mirror or look on the board to see how far back he was," Gordon said. "I thought maybe Junior was having engine problems or handling problems. Then he flipped a switch there at the end. I was like, 'Oh, here he is.' "
Earnhardt took his first lead of the race just five laps from the scheduled finish, slipping by Tony Stewart. In a bit of gamesmanship that would have made his father proud, Junior told his crew to pass along a message to Stewart's people: Stay on the inside and they could team up.
Instead, Earnhardt saw his opportunity to pass on the outside – and he took it.
"Once I got a run going, it was time for me to think about winning the race," he said. "I had a chance to be a back-to-back Daytona 500 champion. That would have been awesome."
Stewart reclaimed the top spot on the next lap, then Earnhardt got by him again. With another victory in sight, Junior couldn't keep his car in front. Gordon found a burst of speed going down the long backstretch, clearing Earnhardt as they barreled into turn three.
"He went by so fast, I couldn't even scratch the side of his car," Earnhardt said. "At that point, I felt lucky just to be in second."
Even though a late caution added three laps to the scheduled 200-lap distance, Junior never made another serious challenge for the lead. In fact, he couldn't hold off Kurt Busch for the runner-up spot.
Considering how far he'd just come, Earnhardt was satisfied with the outcome.
"It was a real exciting race today," he said. "I saw a lot of it out of my front windshield. It looked like a lot of fun. And it was fun for me at the end when I was able to get up there."
Earnhardt's victory last year became an emotional tribute to his dad, who needed 20 tries to win his first Daytona 500. Three years later, the Intimidator lost his life in the same race, the victim of a crash on the final lap.
Local journalism is essential.
Give directly to The Spokesman-Review's Northwest Passages community forums series -- which helps to offset the costs of several reporter and editor positions at the newspaper -- by using the easy options below. Gifts processed in this system are not tax deductible, but are predominately used to help meet the local financial requirements needed to receive national matching-grant funds.
Subscribe to the sports newsletter
Get the day's top sports headlines and breaking news delivered to your inbox by subscribing here.
---