News > Spokane
Veteran attacked while trying to save dog
Mon., Feb. 21, 2005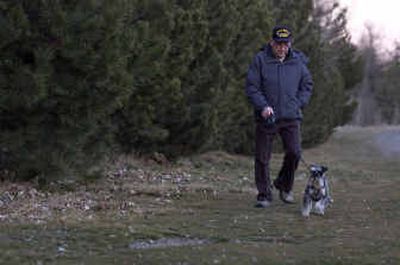 There was a time when Harry Goedde, a decorated World War II veteran, took guff from no one. He wasn't cocky, just confident, a young soldier from Uniontown, Wash., willing to take a bullet for the right reason.
The young Harry Goedde would have righted a few wrongs in Valley Mission Park on Feb. 9, when the old Harry Goedde, 81, was slammed to the ground so hard by a young male. The impact of the older man's frame hitting the ground was so hard it blackened Goedde's right arm with bruises from wrist to shoulder.
The assault occurred because the unidentified man's dog had attacked Goedde's schnauzer. And Goedde, worried that his toaster-sized pooch was in danger, gave the larger attacking animal a few kicks.
"All of a sudden I saw this flash go by me and bam! He gave me one hell of a push. I must have gone about 10 feet. I landed between two trees and I couldn't figure out how the hell I got down there," Goedde said.
Splayed on the ground, Goedde, who stands about 5-foot-7 and weighs 178 pounds, felt around for his glasses while the assailant stood over him yelling "come on, I'll fight you. You kicked my dog, you kicked my dog."
Goedde called the attacker crazy for wanting to fight an 81-year-old man and rose as quickly as he could, hoping to get a good look at the assailant who blind-sided him.
But the man disappeared before Goedde fully recovered.
The attack was a shocking event for a man who survived the Battle of the Bulge in Gen. George Patton's 3rd Army and didn't go home until a sniper's bullet pierced Goedde's legs.
Goedde's an artist and he's chronicled the significant events of his life through stories and drawings. This latest drawing, though, isn't one he expected and wishes he could forget. On paper, he is a character untangling his dog from a tree as a black animal charges.
Goedde's attacker was a male, perhaps in his 20s, who was jogging with a woman of similar age near the horse stables at the park's northern end. And the dog that attacked Goedde's schnauzer, Schatzie, was black, muscular, not quite as big as a Labrador, and not wearing a leash.
The long-time Spokane Valley resident suspects the man and woman had driven to the park in a medium-sized red pickup. The truck was parked in the otherwise empty lot beside Valley Mission Pool when Goedde arrived and gone when he returned from his attack.
The dog shouldn't have been running loose. Leash laws in Spokane Valley require dogs to be leashed anytime they're not at home. The only exception would be if the animal was being kept at a friend's house.
There's no exception made for dogs that come when they're called, or never bite, or love everybody. It's a leash or a $76 fine and that's just the first time. It's $114 for the second offense within 12 months of the first. A third offense in the same time period is considered a criminal misdemeanor, not for the dog, for the owner, said Nancy Hill, director of Spokane County Regional Animal Care and Protection Services. SCRAPS serves Spokane Valley as well as the county.
It's the owner who has blown it when a dog runs loose, or scares or bites someone. The dog really doesn't pay until it starts attacking people, or other animals. By then the animal can be ruled dangerous and eventually killed.
"This is the time of year our complaints go up," Hill said. "More people are out. The weather's nice. Kids come home from school and don't lock the gate behind them."
SCRAPS posted leash signs in most parks to remind people. There have been problems of late with unleashed dogs in Spokane Valley parks, Hill said, specifically Terrace View Park on 24th Avenue, where Hill's officers have begun frequently parking just to make their presence known. She hadn't heard of anything as bad as Goedde's encounter because Goedde called Spokane Valley police, not animal control.
The police are more than willing to arrest Goedde's assailant, but they have little to go on. To that end, Goedde returns to the scene of the attack several times a day, looking for, as he puts it, the "Mack truck" that hit him. But he hasn't seen the black dog, or the assailant, or the girlfriend who stood and watched while an 81-year-old man was slammed to the ground.
"I walk down there at about the same time every day and I haven't seen them again, but I don't remember seeing them before, either," he said. "I'll keep looking."
Local journalism is essential.
Give directly to The Spokesman-Review's Northwest Passages community forums series -- which helps to offset the costs of several reporter and editor positions at the newspaper -- by using the easy options below. Gifts processed in this system are not tax deductible, but are predominately used to help meet the local financial requirements needed to receive national matching-grant funds.
Subscribe now to get breaking news alerts in your email inbox
Get breaking news delivered to your inbox as it happens.
---