News > Spokane
Students show off knowledge in form of technical questions
Fri., Feb. 25, 2005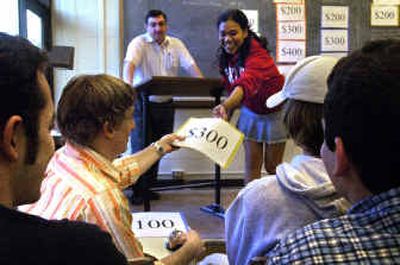 The host started by pointing out the differences between himself and Alex Trebek, saying that he outweighs Trebek, who has more money and actually knows the game rules.
Thus began Engineering Jeopardy at Gonzaga University, with host, professor Max Capobianchi.
The student game show is part of National Engineers Week, which started Tuesday and runs through Saturday. The School of Engineering is hosting an open house today, with tours and live lab demonstrations.
The nationwide event takes place annually during the week of Presidents Day. The reason behind this, explained John Dacquisto, an associate professor of mechanical engineering, is that before he entered politics, George Washington was a surveyor, a job that today would fall under civil engineering.
Accordingly, the categories tested in this version of the popular TV series were: Constants, Famous Inventors, Video Games, Freshman Year and History. The questions – phrased as answers, in true "Jeopardy" style – were written by mechanical engineering students.
Students showed off their prowess in responses to questions such as: "9.80665 meters per second-squared" ("What is acceleration due to gravity?") and "He patented 1,093 inventions earning him the nickname 'The Wizard of Menlo Park.' The most famous invention was the incandescent light bulb" ("Who is Thomas Edison?").
The $500 question from the Video Games category was one of the more obscure of the list: "This code gives you 100 lives in Contra for Nintendo." After a few seconds of silence, one student piped up: "What is up-up-down-down-left- right- left-right-A-B-select-start?" To the shock of mostly everybody, the answer was correct.
"I used to play it all the time when I was a kid," said Patrick McGah, a junior mechanical engineering major.
As the three teams entered the final round, McGah's team, the Ramrods, was in the lead, with Effort and Domination following. The latter two wagered all their money, in a final attempt to steal the lead. The Ramrods, betting $600.01, picked that figure "just to rub it in," said mechanical engineer junior John Harris, referring to a potential win by 1 cent.
Win they did, taking home the $25 gift certificate to David's Pizza, which will get used, Harris added, "after hours and hours of homework."
Local journalism is essential.
Give directly to The Spokesman-Review's Northwest Passages community forums series -- which helps to offset the costs of several reporter and editor positions at the newspaper -- by using the easy options below. Gifts processed in this system are not tax deductible, but are predominately used to help meet the local financial requirements needed to receive national matching-grant funds.
Subscribe now to get breaking news alerts in your email inbox
Get breaking news delivered to your inbox as it happens.
---