Sports
Schlatter sinks ASU
Sun., Feb. 27, 2005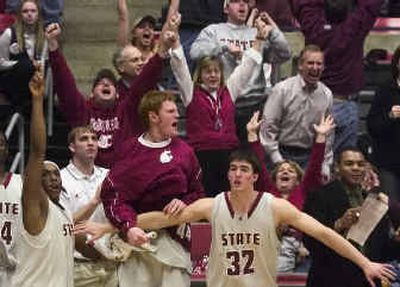 PULLMAN – For weeks, Washington State University has tried to get the ball into the hands of Thomas Kelati when it needed a clutch shot at the end of a game.
But twice in the last three games, WSU hasn't been able to do so and has lost without its best player getting a look at the basket.
On Saturday, with the Cougars in desperate need of a victory against Arizona State University, they found their man in the last home game of Kelati's career.
Sure enough, Kelati made the big play – by passing the ball. Kelati found a wide-open teammate, fellow senior Chris Schlatter, who knocked down a 3-pointer with just less than 10 seconds left to give the Cougars a 57-55 win and new life heading into the last week of the regular season.
"I just drove and I saw Ike (Diogu) coming over, a lot of Arizona State guys in the key," Kelati said. "I turned around and saw Schlatter. Right when I passed to him, I knew that's the guy I wanted to go to. I'd rather have him take the shot over anyone else on the team. He's been big for us, playing pickup games, anything. He's always been the man to go to."
For Schlatter, the shot not only represented a final exclamation point on his career at Friel Court, but also redemption after missing an open look that would have given WSU an overtime lead with 1:18 left against Arizona two days earlier.
"I had told (Thomas) I was real disappointed because I had the shot and I thought it was in and it went out," Schlatter said, turning his attention to the more recent victory. "Like always, they all collapsed on him and he kicked it out."
With that one shot, WSU (11-14, 6-10 Pacific-10 Conference) found itself in vastly improved position for a spot in the Pac-10 tournament, which goes to the best eight teams in the conference. It also ended, at least temporarily, a trend of losing close games – seven by three points or less on the year.
"It had that eerie feeling that we've experienced before," WSU head coach Dick Bennett said. "We've had so many downers that it takes much energy and effort and planning to get back up. At least now we don't have to worry about that."
For much of the game, it appeared the Cougars wouldn't need to worry about a close finish. In what Bennett described as his team's best half of the season, WSU held the Sun Devils (18-11, 7-10) to 19 points before the break and held a 12-point lead at halftime. The Cougars didn't trail in the first 33 minutes, but ended up needing to come from behind after ASU made an impressive second-half comeback.
Down the stretch, though, WSU came up with three key offensive rebounds, the last setting up the game-winning shot. Freshman Robbie Cowgill managed to tip a Kelati miss right back to him, allowing the team's top scorer to find Schlatter.
"We did everything we needed to do to win the ballgame except come up with the defensive rebounds late," Sun Devils head coach Rob Evans said. "We battled back and gave ourselves a chance, should have won the game."
ASU might have secured a win 26 seconds before the final bucket had Diogu been able to convert a nice inbound lob pass. The All-American, who scored a game-high 19 points, caught the ball a foot from the basket, but Jeff Varem, also playing his last game at home, managed to strip away the ball and keep things close for one more possession.
After Schlatter's shot went in, ASU couldn't convert when Tyrone Jackson went coast-to-coast but missed a tough layup in traffic. Varem secured the rebound and time ran out.
"It took a huge offensive rebound and a shot by Chris for a chance to celebrate after so many close losses," Bennett said. "All's well that ends well."
Notes
WSU will likely need one win in its two road games next week at Stanford and California to reach the conference tournament. … The home crowd was small (4,052) and mostly silent until the heroics at game's end. … Jeff Varem's seven turnovers were offset by 13 points, the second-best effort for WSU.
Local journalism is essential.
Give directly to The Spokesman-Review's Northwest Passages community forums series -- which helps to offset the costs of several reporter and editor positions at the newspaper -- by using the easy options below. Gifts processed in this system are not tax deductible, but are predominately used to help meet the local financial requirements needed to receive national matching-grant funds.
Subscribe to the sports newsletter
Get the day's top sports headlines and breaking news delivered to your inbox by subscribing here.
---