News > Nation/World
Voiceless pope has fill-in for prayers
Sun., Feb. 27, 2005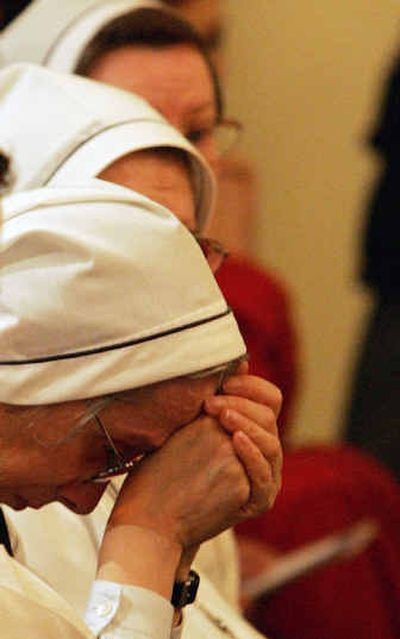 ROME – For the first time in his 26-year reign, Pope John Paul II will not recite Sunday noon prayers because he needs to recover from the surgical procedure performed this week on his throat, Vatican officials said Saturday.
The pope on Thursday underwent a tracheotomy, during which a breathing tube was inserted below his Adam's apple to ease the passage of air into his lungs. He is voiceless with the tube. Besides not reading the traditional Angelus prayer at noon today, he will not appear at his 10th-floor window at Gemelli Polyclinic hospital, Vatican officials said.
Spokesman Joaquin Navarro-Valls has indicated that the pope will be unable to speak for a few days, though independent medical commentators have suggested the silence might last longer.
In the pope's absence, Archbishop Leonardo Sandri is to pronounce the Angelus and deliver a blessing today from the steps of St. Peter's Basilica. Sandri has been a frequent verbal stand-in when John Paul has been unable to deliver statements. The pope will join in the prayer from his bed, Vatican officials said.
Church officials note that the pope, 84, can still write and therefore communicate, and say that as long as he is lucid, he can govern through close collaborators who know his mind. "For important decisions regarding serious problems and aspects of the church, which have to be taken daily, it is important for him to express himself. Even if he cannot speak, he can write," said Cardinal Javier Lozano Jose Barragan. Italian newspapers quoted several prelates as saying the pope would not resign.
Key officials close to the pope include Cardinal Angelo Sodano, the Vatican secretary of state and its chief day-to-day administrator; Cardinal Joseph Ratzinger, the chief guardian of church dogma; and Cardinal Camillo Ruini, the pope's deputy bishop of Rome. The pope frequently communicates to the Vatican hierarchy and to visitors through Archbishop Stanislaw Dziwisz, a longtime friend, personal secretary and fellow Pole. Dziwisz has been the only church official constantly at the pope's side during his current convalescence.
The pope normally delivers the Angelus even when he is outside Vatican City. On May 17, 1981, four days after Turkish gunman Mehmet Ali Agca shot him in St. Peter's Square, the pope whispered a blessing by radio from the hospital. In 1992, after undergoing surgery to remove a tumor, he delivered a recorded version. This month, he sat at his Gemelli room window and gave a blessing after the Angelus was read by an aide.
Local journalism is essential.
Give directly to The Spokesman-Review's Northwest Passages community forums series -- which helps to offset the costs of several reporter and editor positions at the newspaper -- by using the easy options below. Gifts processed in this system are not tax deductible, but are predominately used to help meet the local financial requirements needed to receive national matching-grant funds.
Subscribe now to get breaking news alerts in your email inbox
Get breaking news delivered to your inbox as it happens.
---