News > Spokane
Drunken driving arrests on the increase
Sat., Jan. 1, 2005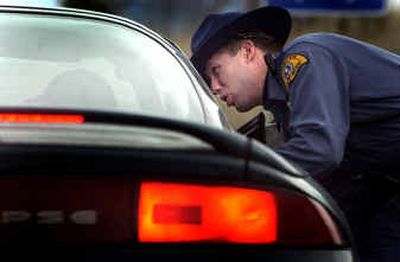 It doesn't matter the time of day. The Washington State Patrol is dealing with drunken drivers.
Just over the Christmas holiday, Trooper Travis Robbins was helping clear a collision on Interstate 90 in the Spokane Valley when a driver ran into several warning cones and took off with one dragging under the car.
It was 10 a.m. and the driver, eventually stopped after exiting at Maple Street, had a blood-alcohol level over .2, well over the legal limit of .08 percent.
He had no driver's license because of previous convictions for driving under the influence.
"There's just some people, short of locking them up in jail forever, I don't think you're going to stop them," Robbins said.
Robbins said he tries to make one DUI arrest a night, but more often nets two or sometimes even three.
The bad news for law enforcement is that DUI arrests are up this year over last.
By 5 a.m. Friday, 2,597 DUI arrests had been made in the WSP's Spokane District, which also includes several rural Eastern Washington counties. That's compared with 2,507 during the same period in 2003.
In December 2004, local troopers arrested about 60 more people for driving under the influence than they had in December 2003.
"Tragically alcohol-related collisions are still the main cause of traffic fatalities in the state," said Trooper Jim Hays.
It's not just a Spokane problem. DUI arrests are up statewide.
Hays said he doesn't know why. It could be that more people are driving after drinking, that the WSP is doing a better job catching drunken drivers or a combination of both.
"We don't have any more troopers working. We're working harder and I'd like to think we're working smarter," Hays said.
Targeting DUI offenders is one of the WSP's core missions, along with cracking down on aggressive driving and enforcing speed limits and seat belt laws.
The WSP has been in full force over the Christmas and New Year's holidays, conducting DUI emphasis patrols.
An early afternoon patrol with Robbins netted no DUI arrests Friday, but one driver was given a warning for speeding and following too close while another was ticketed for not wearing his seat belt.
WSP's holiday DUI emphasis patrol will continue through Sunday.
Local journalism is essential.
Give directly to The Spokesman-Review's Northwest Passages community forums series -- which helps to offset the costs of several reporter and editor positions at the newspaper -- by using the easy options below. Gifts processed in this system are not tax deductible, but are predominately used to help meet the local financial requirements needed to receive national matching-grant funds.
Subscribe now to get breaking news alerts in your email inbox
Get breaking news delivered to your inbox as it happens.
---