Sports
New year's resolution
Sat., Jan. 1, 2005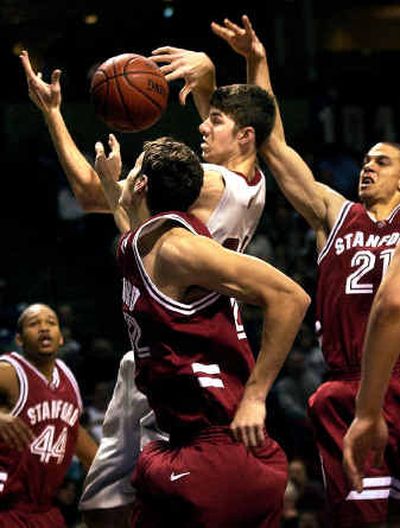 They are nobody's No. 1 now.
In fact, by the only basketball math that counts for anything these days – the dreaded RPI – they're No. 115, or exactly 10 spots behind Washington State. So technically – and corroborated by the Vegas board which had this game at pick-'em – this was no shocker, no upset, and of no particular note to anyone except 3,526 New Year's Eve pre-functionaries at the Spokane Arena.
Except that it still says "Stanford" across the front of the uniform.
For the past 10 months, that's enough to have had Thomas Kelati waking up in a cold sweat in the middle of the night. It was, after all, his mug plastered against the letters on Matt Lottich's jersey and hands held vainly aloft when the Stanford guard launched the impossible shot-put 3-pointer that bailed out the Cardinal in Pullman last February, preserving Stanford's No. 1 ranking until it could be properly exposed as counterfeit a couple of rounds into the NCAA Tournament.
"We had the game won," Kelati remembered. "We were up five with 30 seconds to go, or something. The fans were crazy. We had 9,000 people in there, the biggest all year. It was a huge game. They were the No. 1 team and to have played so well to be in a position to win, it was huge for us.
"Then to lose it, well, it sticks in your mind. It sticks in your heart."
The heartache lasted the rest of the year, until Kelati and Jeff Varem and the rest of the Cougs finally made it Auld Lang Syne on Friday night, their 60-51 victory the latest little landmark in coach Dick Bennett's campaign – some might say Camp Pain – of persuasion.
"It's just one game," Bennett demurred.
What, is he kidding?
When the Cougars beat UCLA in Los Angeles last year, it was only one game, too – but it was the first time Wazzu had bested the Bruins after 22 consecutive losses, and the first victory at all in Pauley Pavilion. Likewise, Friday's kayo ended a 17-game Stanford winning streak in the series. Arizona has won 38 straight from the Cougs, a streak older than most of the current freshman class.
Consider this bizarro note from press row: San Jose Mercury-News reporter Jon Wilner has staffed those Cougar rivals for three different papers since 1990. Friday night was the first time he'd ever seen Wazzu win.
One game?
Hey, sometimes it's not math – it's metaphysics.
And sometimes you need more than merely the evidence of things unseen, and in the end that goes for coaches, too.
"I really have learned not to put expectations on kids or on teams," Bennett said, "but just to try on that particular occasion to be as good as we can. What I think we did find out today is that when we are solid, we are a worthy competitor and that's what we were today."
This was affirmed in all sorts of different ways Friday night. The nervy play of freshman point guard Derrick Low, who along with Kelati pretty much willed the Cougars through the first half. Varem's remarkable 18-point second half, when he humiliated Stanford's posts who stand half a foot taller. The lesson Wazzu gave the Cardinal on the glass. The defense that allowed Stanford only a few crumbs inside. And when the Cardinal finally found some offensive rhythm in the closing minutes, all those free throws the Cougs didn't make in the same situation 10 months ago.
Of course, even the worthiest competitors occasionally need a karma play – the kind that so often has gone against the Cougs during their slide into the abyss the past decade and even in the far more hopeful Bennett era.
If there was a such a thing Friday, it was Kelati's 3-pointer from the corner early in the second half as the shot clock expired – a basket that, for the first time, bumped the lead beyond a two-possession circumstance and began the run that pushed WSU's lead into double figures.
It was neither as desperate nor dramatic as Lottich's heave, but it served its purpose.
"It was a momentum basket for us and a backbreaker for them," Kelati acknowledged. "I've seen plays like that go against us a bunch of times. I just let it fly and when I saw it go in, I knew it was huge for the team.
"But really, we just fed off one another. Jeff was obviously the player of the game and Chris (Schlatter) hit some big shots, and everyone did exactly what they needed to for this to happen."
Stanford included.
This, as noted, is not last year's model. Gone are Josh Childress and coach Mike Montgomery to the NBA and Lottich and Justin Davis to other precincts. But point guard Chris Hernandez has received all sorts of preseason run and center Rob Little is a steady, veteran talent in the middle.
Except that Hernandez was outplayed by a freshman Friday night, and Little was shut out – and not even on the floor the final 9 minutes. The Cougars were the aggressors from the start, outscrapping the Cardinal and – as a bonus – outshooting them, too.
"This basketball team is what it is," said Montgomery's successor, Trent Johnson. "Our margin of error is pretty slim and it was evident to me early on. At the end of the shot clock, or the end of a call, we don't have a guy who can go off and make a play on his own."
Well, hey, Trent – welcome to the club.
If the Cougars don't truly have such a guy, either, they at least have a better notion – or an earlier notion – of what it is they want to be. And it may have all crystallized with Lottich's crushing basket last season.
"It haunts you and you can do two things with it," Kelati said. "You can let it bother you or you can use it as motivation. I think our guys used it as motivation. Those kind of games push you when you're tired and help you get through the tough times.
"This is the best the team's played collectively this year. If we sustain that kind of effort and draw confidence from it, we're going to be a tough team and put ourselves in a position to win games like we did tonight."
Just one game, mind you. But they add up.
Local journalism is essential.
Give directly to The Spokesman-Review's Northwest Passages community forums series -- which helps to offset the costs of several reporter and editor positions at the newspaper -- by using the easy options below. Gifts processed in this system are not tax deductible, but are predominately used to help meet the local financial requirements needed to receive national matching-grant funds.
Subscribe to the sports newsletter
Get the day's top sports headlines and breaking news delivered to your inbox by subscribing here.
---