Congress certifies Bush win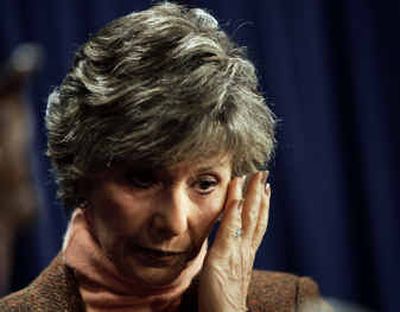 WASHINGTON – Two Democratic lawmakers raised a rarely used objection Thursday to delay Congress' certification of the 2004 presidential election results, but they ultimately succumbed to a bipartisan tide eager to put the election behind them.
Sen. Barbara Boxer, D-Calif., and Rep. Stephanie Tubbs Jones, D-Ohio, challenged the results of Ohio's presidential vote, interrupting what is otherwise a congressional formality of counting and verifying the Electoral College's votes.
Their objection, only the second such step in more than a century, forced the House of Representatives and the Senate to set aside two hours to debate their challenge, though it never put George W. Bush's victory in doubt.
In the end, the Senate rejected their challenge by 74-1 and the House voted it down 267-31. Afterwards, Vice President Dick Cheney presided over a joint session of Congress to conclude the official electoral vote count – 286 for Bush, 251 for Sen. John Kerry, D-Mass., and one vote for Kerry's running mate, John Edwards, D-N.C. The Federal Election Commission hasn't compiled an official popular-vote total, but according to an unofficial tally by the Associated Press, Bush received 60,608,582 votes to Kerry's 57,288,974.
A handful of liberal activists have challenged the Ohio results, claiming that polling-place delays, long lines and statistical analyses indicated that some Ohio voters may not have had their votes counted and others may have been turned away. Bush won Ohio by 118,000 votes, according to official tallies, but critics say that vote irregularities could have affected that result and thus changed the election's outcome.
Boxer maintained Thursday that she filed her objection to initiate a discussion about changes to election law, not to challenge the legitimacy of Bush's victory over Kerry, who didn't join her effort.
"Everyone knows that the election is over," Boxer said. "It's not about overturning the election. To me, it's the opening round, for me personally, in the battle for electoral justice."
Boxer was crucial to the challenge because no objection to an electoral result is valid unless a House member and a senator join forces to file it. Thursday's events were in stark contrast to Congress' official count in 2001 when a parade of African-American House members tried to object to Florida's contested 2000 election results, only to be rebuffed because they had no Senate sponsor. That scene was memorialized in Michael Moore's polemical election-year movie "Fahrenheit 9/11."
Boxer said she now regrets her silence four years ago but said she had been bowing to the wishes of then-Vice President Al Gore, who didn't want to prolong the uncertainty of that election, which he lost.
"Frankly, looking back on it, I wish I had" objected, she said. "I'm not one who likes to admit mistakes. But it really was not about Al Gore. It was about the voters, and I made a mistake."
In the House, Rep. John Conyers, D-Mich., joined Tubbs Jones in leading the challenge to the Ohio vote. Conyers, the ranking Democrat on the House Judiciary Committee, released a report this week by Democratic committee staffers that said there were "ample grounds for challenging the electors from the state of Ohio."
Republicans labeled Democratic objectors "sore losers."
Several prominent Democratic senators used the debate to call for changes in election law, yet distanced themselves from the idea that they were trying to alter the election's outcome.
---