News > Spokane
Future priest hears call amid chaos
Sat., Jan. 8, 2005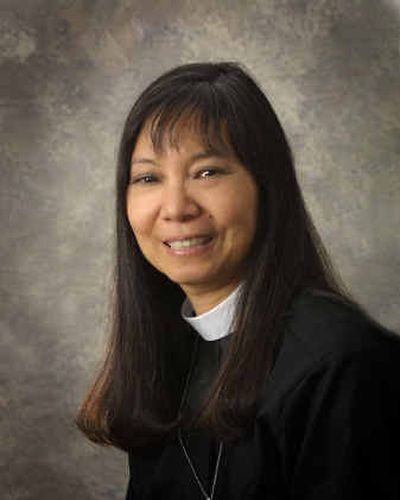 In this life, some believe, we are called to use our natural gifts for the greater good of the community. But to hear this call, we must listen through the distractions of modern life.
Joanna Chin Leiserson, 55, of Spokane, listened. Today at 11 at the Cathedral of St. John the Evangelist, Bishop James E. Waggoner will ordain Joanna, as well as Paul J. Lebens-Englund, to the sacred order of priests in the Episcopal Church.
Joanna listened to her unique call, despite indications she would never be able to answer it.
"She refused to be deterred despite some negative occurrences," said Bernie Loposer, chair of Joanna's "discernment committee" at St. Stephen's Episcopal Church. "It would have been really easy for her to say, 'I will just forget about it.' But she said, 'No, my call is genuine.' "
Some calls begin in whispers. Joanna's began in tears. She was 27 with two bachelor's degrees and a master's degree from Berkeley, and she was riding from California to Spokane with her husband, Michael Leiserson, who had accepted a teaching job at Gonzaga University.
Joanna, who at the time was exploring Tibetan Buddhism, was reading "The Lion, the Witch and the Wardrobe," by Anglican theological writer C.S. Lewis.
When she finished the book, she asked Michael: "What church does he belong to? I want to join." When he told her the Church of England, Joanna burst into tears. England? He assured her that the Episcopal Church in the United States would work just as well. Within a year, she was baptized.
In 1996, while working as the Cathedral's children's ministries coordinator, she experienced what she describes as a direct revelation of God.
"There is no other way to put it," Joanna says. "I was at my office happily working and I felt suddenly a presence like a cloud. It was a cloud of unconditional love, but it wasn't teddy-bear love. It was frightening. I ran home. I got down on my knees and prayed: 'I will do whatever you ask.' "
What she felt she was being asked seemed impossible. The closest seminary was in Berkeley. Joanna had three adolescent children. No way could she uproot them. She was in her 40s, and Chinese-American (she will be one of only 25 Chinese-American Episcopal priests in the country). And Joanna was terrified of speaking in public.
In 1997, then-Bishop Jeff Terry suggested Joanna enroll in Gonzaga University's ecumenical Master's of Divinity program. She took one class at a time and eventually landed a job as Christian education director at Millwood Presbyterian Church. There, through teaching and preaching, she overcame her fear of public speaking.
Joanna and her husband split up during this time and she added "single mother" to the list of distractions that might have stopped most others from answering this call.
Joanna slogged on, semester after semester. In spring 2003, Joanna and I were in a formation seminar at the Ministry Institute at Mater Dei in Spokane. We fellow students were in awe of Joanna's natural ability to lead stunning worship services. She was at a low point then in her spiritual journey, coping with a real life filled with graces, filled with struggles, filled with missteps. She was evolving into a "wounded healer" – theologian Henri Nouwen's term for those who serve church and community in diverse and enlightened ways.
Joanna was lifted from this low point when St. Stephen's agreed to be the community of support for her call to the priesthood. Last year she finished the divinity degree and took the 29-hour Episcopal ordination exam; she passed with one of the highest scores in the country. She will serve now as a priest at St. Stephen's on South Perry in Spokane.
During her long pilgrimage to ordination, Joanna learned that you cannot answer in isolation a call from God.
"St. Stephen's has really held me up, personally and spiritually," Joanna says. "The fact I am a woman, Chinese-American, older, and a single parent, none of that seemed an obstacle to them. In this society, that's pretty amazing."
Local journalism is essential.
Give directly to The Spokesman-Review's Northwest Passages community forums series -- which helps to offset the costs of several reporter and editor positions at the newspaper -- by using the easy options below. Gifts processed in this system are not tax deductible, but are predominately used to help meet the local financial requirements needed to receive national matching-grant funds.
Subscribe now to get breaking news alerts in your email inbox
Get breaking news delivered to your inbox as it happens.
---