Sports
One last time around the rink
Sat., Jan. 8, 2005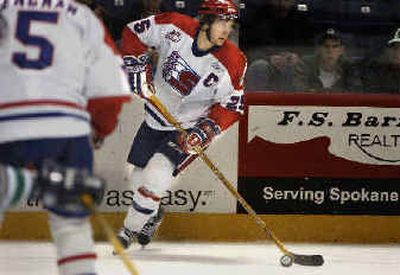 With the wisdom of hindsight, Jevon Desautels now knows what it's like to be a Chiefs captain.
Spokane's 20-year-old has less than half a season left in his Western Hockey League career, one in which he will finish in the top 10 of a couple of all-time categories with Spokane. It seems like just yesterday to him that this point was only a distant milestone.
"I knew I'd be able to play here for my career," Desautels said recently. "When you're 16, you know someday you're going to be 20 and hopefully be a captain, but it's something that always seems so far away. Even when you're a 18-, 19-year-old, it seems like it's so long away that it doesn't really cross your mind.
"Then, once it's here, it's all you think about. Like every time I walk into the rink, it's like, in a couple of months, it's going to be my last time, my last game, everything. So it's always in the back of my mind, but it's something that's exciting at the same time."
One thing Desautels is able to say with certainty is that he will leave junior hockey feeling he's played the game the way it is meant to be played. He also takes pride in his tough reputation that has netted him 617 penalty minutes, good for seventh on the Chiefs' all-time list.
"It is part of the game and I can look back at my penalty minutes and know that they didn't hurt the team too bad. There aren't too many 2-minute minors in there," said Desautels. "So, racking up a few fighting majors is something to take pride in, for sure. It's a lot for the crowd and the team; it's a big momentum-shifter. A good fight can really get your guys playing well. It's a huge deal when you get the momentum going on your side like that."
The benefit of having established himself as one of the WHL's top knockout artists early in his career is that now he gets much of his teammate protection done by reputation. Most opponents aren't likely to challenge Desautels, who stands 6-foot-3 and 215 pounds.
"Now, it's not so much just dropping the mitts and fighting everyone. It's just having everyone know that you can," says Desautels.
Desautels often gets the job done by what he says, not what he does, to an opponent. At an exhibition game this season at Eagles Ice-A-Rena, he clearly advised a Seattle player that he would be able to … put politely, remove his head from the rest of his body. The particulars of threats like that "probably can't be printed," admits Desautels.
The moment was vintage Desautels.
"When he's on his game – he's hitting and his feet are moving, he's hitting the skill players on the opposition – he changes the way they play their game," says coach Al Conroy. "Everybody in the league knows when he's on the ice and knows when he's not on the ice. They know when he's in our lineup and when he's not. … So, he has a huge impact on the opposition and he has a huge impact on our team."
Desautels' current key role is the culmination of a five-year maturation process.
Desautels came to the Chiefs as a 16-year-old and is tied for eighth (with Jason Podollan) on the games-played list with 271.
He started playing for Spokane under former coach Perry Ganchar and was taken under the wing of former assistant Bill Peters. When Desautels' old number wasn't available, it was Peters who recommended Desautels take No. 25 – one which had been worn by rugged former captains Derek Schutz and Kevin Sawyer (current Chiefs assistant coach and all-time leader in penalty minutes).
Peters also showed Desautels about how to honor the traditions of the game: Treat older players with respect and learn from them. Desautels finds himself as the sage on a Chiefs team that is relatively young but has a solid leadership core.
He and the other Spokane captains have had to step in to fill the void left by the season-ending loss of fellow 20-year-old leader Scott Lynch earlier this season. The suddenness of Lynch's situation made an impact on Desautels.
"After Scott going down, that kind of makes you realize that you never know which game could be your last," said Desautels.
He said the foregoing not in a fatalistic way, but simply as a reminder to play every shift to the fullest. That's a necessary mantra, as the final junior season also has its challenges.
"There's times where it's tough to be motivated," said Conroy.
Conroy said Desautels is respected by and is respectful of his teammates, coaches, and team management. Those are values Desautels learned in the small town of Alida, Saskatchewan. A town of 125, it's where "everybody knows everybody."
On the team's recent eastern road swing, most of his friends and family watched Desautels play for the last time.
"It was a lot of 'last' games and a lot of times that people were going to see me in my uniform. It really meant a lot to be doing that for the last time and having that road trip," said Desautels, the son of an oil-well operator father and a housewife mother.
The experience of playing in Spokane, in an Arena that holds 10,000-plus, is now comfortable to a kid who first had WHL dreams after visiting Brandon's arena when he was 12 or 13.
Now he ponders the next step, as he will look to extend his playing career as a professional. He went to the Detroit Red Wings' rookie camp this summer after failing to stick with the Washington Capitals after attending their camp for two years.
"He's gone through some tough times, being drafted and not being signed," noted Conroy. "So I think he's grown through his experiences. Now he's a young man that's unsure of what his future holds but yet he's definitely trying to take advantage of everything he's got today."
That's the perspective with which he will skate for the rest of this year.
"I try not to take anything for granted; every day means something and, before you know it, it'll be over," said Desautels. "So it's really a special thing that you've got to cherish and take advantage of. I always made the best of my opportunities and I have no regrets about my career. … But once you get older, you actually realize why it's so special and why it's such a big deal."
Local journalism is essential.
Give directly to The Spokesman-Review's Northwest Passages community forums series -- which helps to offset the costs of several reporter and editor positions at the newspaper -- by using the easy options below. Gifts processed in this system are not tax deductible, but are predominately used to help meet the local financial requirements needed to receive national matching-grant funds.
Subscribe to the sports newsletter
Get the day's top sports headlines and breaking news delivered to your inbox by subscribing here.
---