News > Spokane
Rossi to challenge election
Sat., Jan. 8, 2005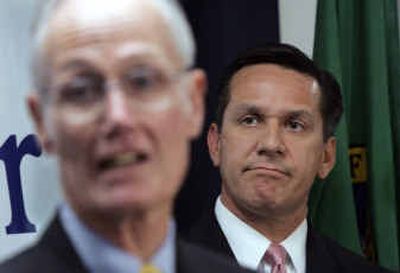 BELLEVUE, Wash. – Republican Dino Rossi and the state GOP announced Friday they will contest the gubernatorial election that gave his Democratic foe, Christine Gregoire, a 129-vote victory.
Democrats said the challenge is unfounded.
Republicans have been building a case, gathering evidence of voting irregularities, including what they allege were illegal provisional ballots and a handful of votes cast by dead people.
They are pushing for a revote, an unprecedented step in a statewide election.
"There are so many improperly cast and counted ballots that this election is invalid," said Rossi, a real estate agent and former state senator. "You cannot tell who won. The only way for us to get out of this problem is for us to have a revote."
Democrats said the state constitution won't allow a revote.
"No court will find this election should be set aside," said Democratic Party attorney Jenny A. Durkan. Even if illegal votes were cast, she said, "it would not change the outcome of the election."
Gregoire, the state's three-term attorney general, lost the first count by 261 votes and the second count by 42 votes, then won a hand recount of 2.9 million ballots.
On Friday she acknowledged Rossi's right to contest the election, but flatly rejected his contention that enough errors have been shown to warrant a redo.
"I don't take any of this personally," she said at a news conference in Olympia. "I respect the right of others to file an action in the courts. That is their right."
Republicans are not arguing any fraud or misconduct took place, only that too many mistakes were made for anyone to be certain who actually won.
"The number of votes cast questionably, illegally or mistakenly is vastly in excess of the 129-vote margin by which this election has been certified," former U.S. Sen. Slade Gorton said at a news conference Rossi held at his campaign headquarters in this Seattle suburb.
Republicans highlighted a host of problems, including thousands more ballots than people credited with voting in several counties' records – more than 1,200 in heavily Democratic King County alone.
King County Elections Director Dean Logan and other county officials have said it's common for vote totals not to match up with their lists of voters who cast ballots – that the crucial quality-control work is done at the front end, not after the election.
Another problem in King County: Nearly 350 provisional ballots were fed directly into vote-counting machines before election staffers could verify whether they were valid, Logan said.
Republicans said they also found cases of votes cast by felons whose civil rights had not been restored and dead people credited with voting.
The Seattle Times and the Seattle Post-Intelligencer reported Friday that some people who died before absentee ballots were mailed had been credited with voting in the November election.
The Times found 24 examples of deceased voters in six of the state's largest counties. The P-I found eight such examples in King County alone.
Logan said his office has reported to the county prosecutor the names of three people who told reporters they cast an absentee ballot for their dead spouse.
GOP attorney Harry Korrell said Republicans were filing suit immediately in Chelan County Superior Court, and that they have no plans to try to block Gregoire's scheduled inauguration next Wednesday.
Republicans said they chose Chelan County because they didn't want to sue in any county where they were alleging serious problems had occurred. Democrats said picking a county where voters backed Rossi amounted to "judge shopping."
Durkan said the Democrats will intervene once they review the Republicans' pleadings "to seek to defend the rights of the voters who elected Christine Gregoire.
"I ultimately think the case will get thrown out," Durkan said.
State Democratic Party Chairman Paul Berendt questioned the Republicans' contention that they don't need to prove fraud or misconduct – only that so many mistakes were made that no one could ever know who won.
"There's no smoking gun that points to the one issue that could get the election overturned," Berendt said. "They admitted for the first time in six weeks that there is no fraud. I think they're in big trouble."
Washington isn't the only state where election drama is unfolding. In North Carolina, a judge ordered a new statewide election for agriculture commissioner because of a voting machine error that wiped out 4,438 ballots in one county.
Any election challenge will certainly end up before the state Supreme Court, where two citizens have already filed challenges of their own.
Supreme Court Clerk C.J. Merritt said the court will wait until the filing period closes before deciding what to do with election challenges. The deadline is 10 days after the Legislature issues a certificate of election, which is expected to happen Tuesday.
Local journalism is essential.
Give directly to The Spokesman-Review's Northwest Passages community forums series -- which helps to offset the costs of several reporter and editor positions at the newspaper -- by using the easy options below. Gifts processed in this system are not tax deductible, but are predominately used to help meet the local financial requirements needed to receive national matching-grant funds.
Subscribe now to get breaking news alerts in your email inbox
Get breaking news delivered to your inbox as it happens.
---