Sports
Viks have upper hand again
Sat., Jan. 8, 2005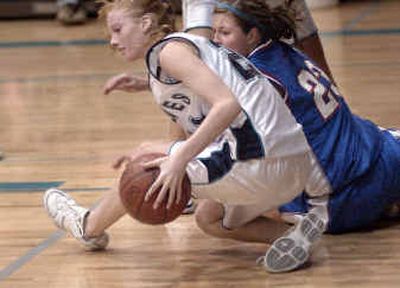 The streak is alive.
Sure it's only two games, but after 10 straight losses to Lake City, the Coeur d'Alene High girls basketball team must feel like it's 20.
The Vikings got a team-high 13 points and eight rebounds from Jenna Griffitts and topped the Timberwolves 49-37 Friday night at LCHS.
Griffitts, who hit 5 of 6 free throws and grabbed three big rebounds down the stretch to help seal it away, said victories don't come much sweeter.
"I can't explain it," said Griffitts, a senior forward who has perennially endured drubbings from the cross-town rival. "Ever since my freshman year, I've been saying 'come on guys, we can do it,' and 'this year, this year, this year.'
"We're finally getting it, but we can't let it get to us, because we still have a couple of big games left."
She also admitted it wasn't nearly as easy as her team's mid-December, streak-busting home win over LC.
"The first game, we came out really strong – we were physical, we were on the floor going after the ball, and I think they were really surprised at that," Griffitts said. "I think they came out tonight, being more physical and trying to match that."
The Vikings (11-2, 6-1 Inland Empire League) took a 14-point lead into the locker room at halftime, thanks in large part to cold shooting from the T-Wolves, who were just 3 of 19 from the field in a rough-and-tumble first half.
But Lake City (8-7, 6-3) came out firing and by the end of the third quarter had cut the deficit to nine at 36-27 when senior post Amy Lawson converted a pass in the paint from sophomore wing Richelle Fenenbock.
Twenty seconds into the fourth, Lawson, who finished with 11 points, sliced it to six, hitting the foul shot to complete a three-point play.
After some frantic back-and-forth action, LC was able to get as close as seven at 43-36 with 1:20 to go, but the hole was just too deep.
First-year CdA coach Dale Poffenroth, the longtime Central Valley hoop guru, credited the T-Wolves for the comeback, but laid some blame at his own doorstep as well – namely poor shot selection and even poorer rebounding.
"They came back because we weren't being very smart," Poffenroth said. "And that's because they were doing things to make us not be very smart and we have to grow up a bit.
"You have to remember, we're still awfully young, and we do some things we shouldn't do – we just keep going and going and going; sometimes when you have a lead, you have to be more sensible."
LC coach Darren Taylor, a bit of guru himself, lamented his team's frosty shooting in the early going and said that he and his charges were happy with their effort.
"Everything we ran was perfect in the first half – wide-open shots, layins, free throws," Taylor said. "But nothing would go in, and we got so tired that we kind of broke down defensively on three straight possessions and go to the locker room 14 points down.
"It was just too much to come back from, but we got close in the second half and made it interesting."
Lake City junior point guard Georgia Burke, who hit 4 of 8 from 3-point land, led all scorers with 14 points.
The teams meet for the third time this season next Friday, again at Lake City, in the annual anarchy that is the Fight for the Fish. Game time is 5:45 p.m.
Other games
Sandpoint rallies to win
Sandpoint 55, Moscow 44: The Bulldogs fell behind, 25-12, in the first half, but rallied to earn the Inland Empire League game at home by holding the Bears to just four points in the pivotal third quarter. Ashleigh Mire had a dozen points and Ellie Carney added nine points and 10 rebounds to lead Sandpoint (4-2, 9-3). Moscow (2-4, 6-8) got 19 points from Sara Picard. … St. Regis, Mont. 39, Mullan 37: The Tigers (1-1, 1-8) couldn't quite catch St. Regis on the road. Anali Carrico led Mullan with 19 points, 11 rebounds and five steals. Fawn Story added six points and 13 rebounds.
Local journalism is essential.
Give directly to The Spokesman-Review's Northwest Passages community forums series -- which helps to offset the costs of several reporter and editor positions at the newspaper -- by using the easy options below. Gifts processed in this system are not tax deductible, but are predominately used to help meet the local financial requirements needed to receive national matching-grant funds.
Subscribe to the sports newsletter
Get the day's top sports headlines and breaking news delivered to your inbox by subscribing here.
---