Sports
Gaels pull off upset, shock GU
Sun., Jan. 9, 2005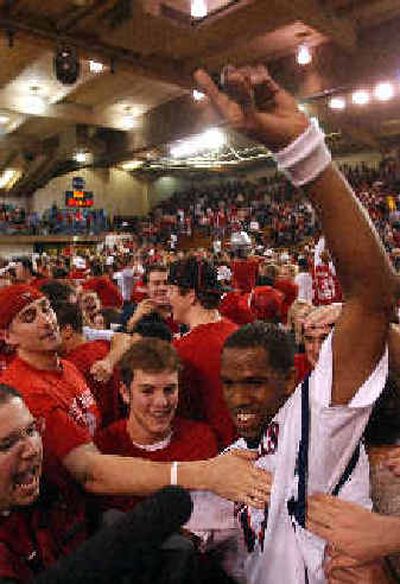 MORAGA, Calif. – Saint Mary's used some uncanny long-range shooting to wash away seven years of frustration Saturday night at McKeon Pavilion.
The Gaels, fueled by a wildly enthusiastic sellout crowd, some outstanding defensive pressure and 16-for-27 shooting from 3-point range, built a 15-point second-half lead and did enough good things down the stretch to stun 11th-ranked Gonzaga 89-81 in an early-season matchup of West Coast Conference powers.
Senior guard Paul Marigney scored a game-high 30 points, making 7 of 11 3-point tries, and three other Gaels finished in double figures as Saint Mary's (14-4 overall, 2-0 in the WCC) beat GU for the first time since Jan. 22, 1998, and snapped a 17-game losing streak against the Bulldogs (11-3, 1-1), who lost for the second time in three games.
Gonzaga, led by Adam Morrison's 20 points, had five players in double figures and won nearly every important statistical category. The Bulldogs shot 50.9 percent from the field, outrebounded the Gaels 35-24 and finished with two more field goals.
But they couldn't offset the splendid outside shooting of Saint Mary's, which made six of the first seven 3s it tried – including five in a row during a 2½-minute stretch of the first half.
"They shot the ball incredibly well," Gonzaga coach Mark Few said of the Gaels, who handed the Zags their first WCC regular-season loss in 18 games. "They spread you out, put in three guards and if the 3s are going in, that's great.
"They kind of live and die by it, and they certainly lived by it tonight."
Few said he was disappointed in the job his team did trying to locate Marigney in the first half.
"But I thought we shored that up after intermission," he added.
Marigney scored 20 of his points in the first 20 minutes to help Saint Mary's build a 41-37 halftime lead and then stole an inbounds pass and scored early in the second half to cap a 6-0 run that put the Gaels up 47-37.
They eventually boosted their lead to 69-54 on a 3-pointer by Jason Wallberg at the mid-point of the second half, but GU gamely battled back and pulled to within 79-78 when Morrison scored on a drive after stripping Frederic Adjiwanou.
The Gaels were trying to use the shot clock at the time and seemed to have lost the momentum they had throughout the game. But they did an excellent job of taking care of the ball in the final minute and finally put GU away by make making 8 of 10 free throws down the stretch.
"We do that all the time, and it hasn't backfired on us yet," Gaels coach Randy Bennett said of his decision to slow the game down in the late going. "We wanted to shorten the game. You can argue that – whether you can stall out doing it, and we might have a little bit tonight."
But the valuable seconds the Gaels used up on each possession made GU's comeback much tougher.
Bennett said his team went into Saturday's game focused on what a win would mean to their program, rather than their 17 straight losses to the Zags.
"We knew what was at stake," he explained. "This will look good on our resume."
Despite Saint Mary's defensive intensity, GU did a decent job of finding points. Along with Morrison's 20, they got 14 each from Derek Raivio, Erroll Knight and J.P. Batista, along with 10 from Ronny Turiaf.
"But (Saint Mary's) came out ready to go and really shot it well," said Turiaf, who also pulled down a game-high nine rebounds. "All in all, they played better than us, but we did our best to stay in the game and got it down to one possession."
"It seems like every team we play teams shoot that well against us," added Knight. "It seems like they all want a piece of us. It hurts, but this is only one loss. We've got to go back to work and get ready for the rest of the season."
The Bulldogs, who have not played at home since Dec. 11, finally return to the McCarthey Athletic Center this week to take on Loyola Marymount Thursday and Pepperdine on Saturday.
Local journalism is essential.
Give directly to The Spokesman-Review's Northwest Passages community forums series -- which helps to offset the costs of several reporter and editor positions at the newspaper -- by using the easy options below. Gifts processed in this system are not tax deductible, but are predominately used to help meet the local financial requirements needed to receive national matching-grant funds.
Subscribe to the sports newsletter
Get the day's top sports headlines and breaking news delivered to your inbox by subscribing here.
---
Subscribe and log in to the Spokesman-Review to read and comment on this story