Sports
Colts have too much for Broncos
Mon., Jan. 10, 2005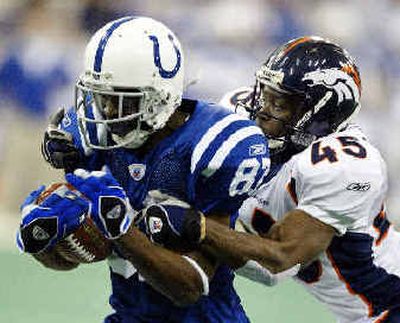 INDIANAPOLIS — It was supposed to be more difficult for Indianapolis Colts quarterback Peyton Manning this time. After Manning ripped Denver in the first round of the playoffs last season, the Broncos upgraded their secondary by signing veteran safety John Lynch and trading tailback Clinton Portis to the Washington Redskins for Pro Bowl cornerback Champ Bailey.
Despite the all-star additions, the Broncos' defense remained no match for Manning, who all but won the game with a prolific first half and led Indianapolis to the conference semifinals, 49-24, before 56,609 at the RCA Dome.
Manning threw for 360 yards, the most in a half in the playoffs since the 1970 AFL-NFL merger, with three touchdowns on 21-for-27 passing before intermission. The Colts led 35-3 at halftime.
Manning finished with 457 yards passing, the second-most in an NFL playoff game. Cleveland's Bernie Kosar threw for 489 yards in a 23-20 overtime victory over the New York Jets in 1986.
The Colts (13-4) next play the New England Patriots, the Super Bowl champions, Sunday in Foxboro, Mass.
The Broncos (10-7) lost their third consecutive playoff game and haven't won in the postseason since Hall of Fame quarterback John Elway's last game, a 34-19 victory over the Atlanta Falcons in Super Bowl XXXIII on Jan. 31, 1999.
"It's a win in round one," Manning said. "We would have liked to have had a bye and would have liked to have had a home game in round two, but there are too many good teams in the AFC this year."
The Colts are playing as well as the other three AFC teams remaining in the playoffs. Last year, Manning won for the first time in the playoffs (he was 0-3 during the postseason in his first five NFL seasons), beating the Broncos and Kansas City Chiefs, before losing to the Patriots, 24-14, in the AFC championship game. Manning threw four interceptions and one touchdown in that loss to New England.
"Last year, everybody was talking about winning a playoff game, and we beat Denver and Kansas City and lost to New England, and I didn't feel any better," Manning said. "We want to win the whole thing. That's what I want to do. Obviously, individually, I've accomplished a lot, but I haven't been to the Super Bowl since I've been the quarterback here. We've got a shot, and that's all you can ask for."
After one of the greatest regular seasons by an NFL quarterback, Manning completed 27 of 33 passes Sunday, including all nine attempts in the second half. Wide receiver Reggie Wayne caught 10 passes for 221 yards — the third-highest total in playoffs history — and two touchdowns.
"They went and got Champ Bailey, and we knew the reason they got him — to blitz a lot and play man coverage," Colts Coach Tony Dungy said. "We thought we had a good matchup over there, and we took advantage of it with Reggie."
Every time Manning lined up in the shotgun Sunday, he saw rookie cornerback Roc Alexander opposite Wayne. With the Broncos focusing on Pro Bowl wide receiver Marvin Harrison and slot receiver Brandon Stokley, Manning threw to Wayne early and often.
"It's nothing against Alexander," Manning said. "Reggie has had an outstanding season all year long. Whoever's been guarding Reggie is always in for a challenge." Wayne caught Manning's first four completions and had five catches for 20 yards or longer.
Alexander covered Wayne on the left side on nearly every play. Bailey covered Harrison on the right side, and cornerback Kelly Herndon defended Stokley in the slot.
The Broncos also tried to play press coverage against Wayne. But after catching a screen pass, he broke attempted tackles by Alexander and Herndon and ran in a 35-yard touchdown with 4:79 left in the half.
Local journalism is essential.
Give directly to The Spokesman-Review's Northwest Passages community forums series -- which helps to offset the costs of several reporter and editor positions at the newspaper -- by using the easy options below. Gifts processed in this system are not tax deductible, but are predominately used to help meet the local financial requirements needed to receive national matching-grant funds.
Subscribe to the sports newsletter
Get the day's top sports headlines and breaking news delivered to your inbox by subscribing here.
---