News > Spokane
Neighbors lament killing of stray dog
Mon., Jan. 10, 2005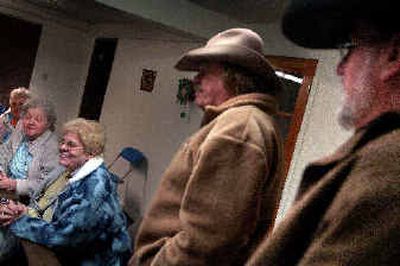 This is a story about a dog abandoned in east Spokane Valley. Maybe she was too spastic. Maybe her puppy cuteness didn't last. Maybe she chewed on the wrong pair of shoes.
Whatever the reason, T.M. spent the last three years of her life living under bushes in a trailer park and died New Year's Eve after county animal control officers found her nursing eight puppies in a shallow dugout beneath a storage shed. They killed her, reasoning that she'd become too wild, too dangerous to ever be adopted out.
Is that what her owner had in mind when T.M. was let go?
She was known as the wolf of River Rose trailer park, a retirement community on the Spokane River's north bank, just 100 yards from the Barker Road Bridge. Neighbors in the northeast corner of the park quickly adopted the animal as their unofficial mascot and won her over with hotdogs and cheese.
"A man down the street fed her steak for breakfast," said Barbara Kissinger, a River Rose neighbor so familiar with T.M. that the two could touch noses. "She was a sweetheart."
Kissinger said she knew the dog belonged to somebody because it wore a collar when she first saw it. But there were no tags and no one ever came looking for the gaunt, rangy animal neighbors surmised must have been at least part wolf, or maybe a little coyote.
The neighbors nicknamed her "T.M." short for "Tippy's Mom." Tippy was a pup from the first of three litters dropped by the unspayed stray. Dogcatchers managed to recover all the pups, but never T.M., until 11 days ago.
She was wily. Dogcatchers for Spokane County Regional Animal Protection Services looked like chronic bunglers trying to catch T.M. Pressured by other River Rose residents who considered T.M. at least a nuisance and possibly dangerous, the county agency known as SCRAPS went after T.M. with everything from doped cheese to dart-gun snipers. T.M. seemed to know the SCRAPS vehicles by sound and would vanish like smoke whenever they arrived.
People either loved her or feared her. T.M. had bitten a woman who two years ago got too close to the dog's pups. She'd also chewed up a would-be suitor who approached her while she was in heat. Those two incidents put her on SCRAPS' most wanted list and assured she would be killed if ever caught.
But the other side of T.M. is documented in the scrapbooks of neighbors who did everything from taking her on walks to rolling her over and gently scratching her tummy. They did everything with T.M. except give her a home. The dog would flee if they tried. One neighbor, Ruth Hall, suggested T.M. be spayed and returned to River Rose to live free. SCRAPS director Nancy Hill said that wasn't an option.
"I would knowingly be letting an animal go, that has already bitten somebody, in violation of the leash law," Hill said. "How could I ask you to leash and license your dog if I did that?"
Hill said killing T.M. wasn't easy. There aren't many dogs that can live on the street for three years, which shows how smart T.M. was, she said. And the SCRAPS director wonders if maybe T.M.'s story started at the gates of the Spokane County animal shelter, roughly a mile west of River Rose Mobile Home Park. People have been known to dump unwanted pets at the shelter gates when the facility is closed. There is a gated area for dropping off animals, but some people unloading an animal don't bother using it. It's possible T.M. wandered east until she found a park full of kind elderly people who fed her well.
The only way T.M.'s story would have ended differently was if someone had claimed the animal prior to New Year's Eve. No one did.
And so as T.M. huddled with her pups on the last day of 2004, dogcatchers blocked the hole to the dugout and pried up the boards of the storage shed floor just enough to accommodate the barrel of a tranquilizer gun. The dog was pulled out about 20 minutes later and euthanized in the two hours that followed.
The pups were collected by Wolf People, a wolf recovery group from Cocalalla, Idaho, which has already found a home for them. Nancy Taylor of Wolf People said she would have taken T.M. as well had SCRAPS, which described T.M. as dangerously unpredictable, not discouraged her.
After seeing the photos of T.M. interacting with neighbors, Taylor said she no longer thinks T.M. had to be put down. Maybe she wasn't the kind of dog that sleeps by the fireplace. Maybe T.M. bit when she felt threatened. Maybe she no longer trusted anyone, but whose fault was that?
Local journalism is essential.
Give directly to The Spokesman-Review's Northwest Passages community forums series -- which helps to offset the costs of several reporter and editor positions at the newspaper -- by using the easy options below. Gifts processed in this system are not tax deductible, but are predominately used to help meet the local financial requirements needed to receive national matching-grant funds.
Subscribe now to get breaking news alerts in your email inbox
Get breaking news delivered to your inbox as it happens.
---